The Workings of the Household: A US-UK Comparison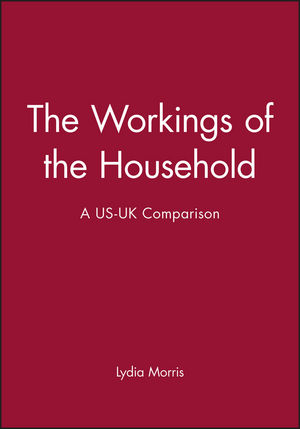 The Workings of the Household: A US-UK Comparison
ISBN: 978-0-745-60442-8
Jan 1991, Polity
216 pages
Description
This book examines the organization of domestic life in the context of recent economic change. Lydia Morris argues that relationships within the household can only be understood with reference to the social and economic environment in which it is located. Through an analysis of economic changes in post-war Britain and the United States, the author examines the structure of labour markets, systems of welfare and local social networks. She charts the theoretical positions which have been developed with respect to the connection between the household and the labour market. Aspects of this link include male unemployment, the significance of female employment, the significance of role reversal, the organization of domestic labour, the management of household finance and the position of young people in the household.

Finally, the author examines welfare provision and access to employment generally in order to assess their effects on the organization of the household. This highly original work offers a new approach to the study of the 'household', shedding new light on gender relations and the structure and processes of the labour market.
1. Introduction.
2. Male Unemployment.
3. The Variable Experience of Male Unemployment.
4. Employment for Women.
5. The Division of Domestic Labour.
6. Household Finance.
7. Women's Unemployment.
8. Young People and the Household.
9. The Household in Social Context.
10. Conclusion.
References.
'Impressive and original.'
Times Higher Education Supplement
'Judicous, intelligent book' Culture and Society
'An invaluable bridge between the labour market and family studies; it will be essential as an undergraduate text and source for practitioners.' Sociology
'Lydia Morris has produced an extremely useful guide to the proliferating body of research within social science which takes the household as its unit of analysis... an admirable book, interesting and thought-provoking. Well-written, clear and concise, it is to be recommended to anyone working in the areas it covers' Reviewing Sociology
1. This original work brings together two areas of study which have previously been studied separately: labour market structures and the organization of the household. 2. It assesses and criticizes previous approaches to the household and argues that gender relations within the home cannot be understood fully without reference to economic and social factors outside the home. 3. The work is fully comparative, analysing data from both the USA and the UK.