The World Economy, Global Trade Policy 1996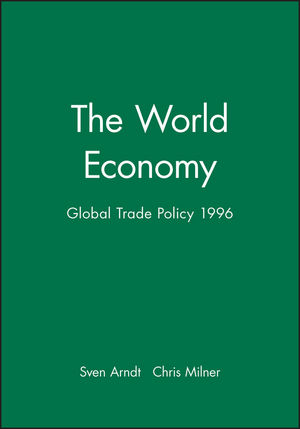 The World Economy, Global Trade Policy 1996
ISBN: 978-0-631-20348-3 November 2011 Wiley-Blackwell 224 Pages
Description
This book is the second in an annual series in which top economists provide a concise and accessible summary of policy development, GATT country reviews and special issues on international trade over the past year. Over a number of years the series will create a valuable reference resource, acting as a vehicle for stimulating interest in current trade policy issues both at the regional leval and at the global level.
1. Introduction: Sven Arndt (Claremont McKenna College) and Chris Milner (University of Nottingham). Institutional Focus.
2. The Role of the OECD in Liberalizing International Trade and Capital Flows: David Henderson (OECD). Regional Focus.
3. Central Europe Looks West: Henryk Kierzkowski (Graduate Institute of International Studies, Geneva).
4. Regionalism and the Bias Against Agriculture in Less Developed Countries: Dean A. DeRosa (ADR International, Virginia). National Trade Policy Reviews.
5. Canadian Trade Policy: The GATT's 1995 Review: Ronald Wonnacott (University of Western Ontario).
6. The Trade Policy Review of the European Union: Jacques Pelkmans and Antonia Giulia Carzaniga (Centre for European Policy Studies, Brussels).
7. The Trade Policy Review of Indonesia: George Fane (Australian National University).
8. Israel's Trade Policy Review of Israel: Mordechai E. Krenin (Michigan State University).
9. The Trade Policy Review of Japan: Robert M. Stern (University of Michigan).
10. The Trade Policy Review of Zimbabwe: Jan Willem Gunning (Free University, Amsterdam). Special Features.
11. The Scope, Implication and Economic Rationale of a Competition-oriented Approach to Future Multilateral Trade Negotiations: Geza Feketekuty (Monterey Institute of International Studies) and Robert A. Rogowsky (US International Trade Commission).
12. Trade Policy and Environmental Protection: Horst Siebert (Kiel Institute of World Economics).
A source of information, in an accessible and digestible form, on current trade and policy developments at global, regional and national levels
International and highly respected authorship
Independent assessments of international agencies and of the GATT Trade Policy Review Mechanism.