The World Economy, Global Trade Policy 1997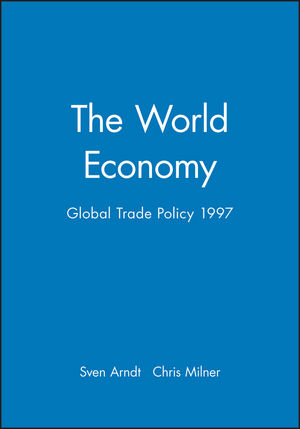 The World Economy, Global Trade Policy 1997
ISBN: 978-0-631-20759-7
Apr 1998, Wiley-Blackwell
208 pages
Description
This volume is the third in an annual series in which top economists provide a concise and accessible evaluation of major developments in trade and trade policy.
1. Editorial Introduction: Sven Arndt and Chris Milner.
2. Institutional Focus: The WTO and the Global Trade Regime: R. Blackhurst.
3. Regional Focus: A Trans-Atlantic Trade Free Area: J. Donges et al.
4. Regional Focus: Mercosur: D. Leipziger et al.
5. National Trade Policy Review: Brazil: R. Flores Jr.
6. National Trade Policy Review: Sri Lanka: Cuthbertson.
7. National Trade Policy Review: Switzerland: H. Hauser.
8. National Trade Policy Review: Thailand: A. Siamwalla.
9. National Trade Policy Review: Uganda: P. Collier.
10. Special Feature: Open Regionalism: F. Bergsten.
11. Special Feature: Intellectual Property Rights: K. Maskus.
12. Special Feature: Globalization and Trade: A Symposium.
Index.
An accessible and digestible information source, on current trade and policy developments at global, regional and national levels
International and highly respected authors
Independent assessments of international agencies and of the GATT Trade Policy Review Mechanism.