The World Economy: Global Trade Policy 2006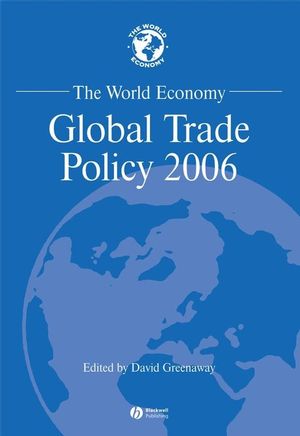 The World Economy: Global Trade Policy 2006
ISBN: 978-1-405-15981-4 July 2007 Wiley-Blackwell 168 Pages
Description
The thirteenth volume in this annual series analyses trade structure, Non-agricultural Market Access (NAMA) and their effect on World Trade Organization negotiations.


Top economists provide a concise and accessible evaluation of major developments in trade and trade policy

Examines key issues pertinent to the multinational trading system, as well as regional trade arrangements and policy developments at the national level

Considers the economic implications around the world from developing countries through to European communities

Questions why the WTO is deadlocked and what can be done about it and includes evaluations of WTO Trade Policy Reviews of the European Union, Korea and Norway
Table of contents
Trade Policy Reviews
.
1. Storm Signals: An Analysis of the Trade Policy Review of the European Communities: P. K. M. Tharakan.
2. Identifying Trade Structure and Macroeconomic Caveats: The Post-crisis of Korea: Jong-Eun Lee.
3. The Most and the Least Favoured Nations: Norway's Trade Policy in Perspective: Arne Melchior.
Special Feature.
4. Mini-symposium on the WTO Non-agricultural Market Access (NAMA) Negotiations: Introduction: Chris Milner.
5. Why NAMA Liberalisation is Good for Developing Countries: Philippe Legrain.
6. Economic Implications of WTO Negotiations on Non-agricultural Market Access: Sam Laird.
7. Preference Erosion, Government Revenues and Non-tariff Trade Barriers: Bob Fisher.
8. Enlarging the Vision for Trade Policy Space: Special and Differentiated Treatment and Infant Industry Issues: Patrick A. Messerlin.
9. Making NAMA Work: Supporting Adjustment and Development: Chris Milner.
Institutional Focus.
10. Why the WTO is Deadlocked: And What Can Be Done About It: Paul Collier.
Index
Features


Top economists provide a concise and accessible evaluation of major developments in trade and trade policy

Examines key issues pertinent to the multinational trading system, as well as regional trade arrangements and policy developments at the national level

Provides up-to-date assessments of trade structure, Non-agricultural Market Access (NAMA) and their effect on World Trade Organization negotiations

Considers the economic implications around the world from developing countries through to European communities

Questions why the WTO is deadlocked and what can be done about it and includes evaluations of WTO Trade Policy Reviews of the European Union, Korea and Norway