The World Economy: Global Trade Policy 2007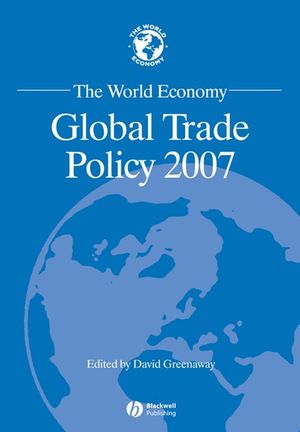 The World Economy: Global Trade Policy 2007
ISBN: 978-1-444-30672-9 February 2009 Wiley-Blackwell 168 Pages
Description
This is the fourteenth volume in an annual series in which leading economists provide a concise and accessible evaluation of major developments in trade and trade policy.
Examines key issues pertinent to the multinational trading system, as well as regional trade arrangements and policy developments at the national level
Analyses trade policy in areas such as Malaysia, Trinidad and Tobago as well as revealing the national security concerns that have become a dominant influence on US trade policy since 2001
Includes a special focus on the Doha Round where contributors evaluate the winners and losers from trade liberalisation and investigate the cotton initiative of the WTO's Doha Development Agenda
Table of contents
Part I: Trade Policy Reviews.
1. Malaysia – Trade Policy Review 2006 (Bala Ramasamy and Matthew Yeung).
2. Allies and Friends: The Trade Policy Review of the United States, 2006 (Rodney D. Ludema).
3. Formulating Trade Policy in a Small Hydrocarbon-dependent Economy: The Case of Trinidad and Tobago (Michael Henry).
Part II: Special Focus on the Doha Round.
4. More or Less Ambition in the Doha Round: Winners and Losers from Trade Liberalisation with a Development Perspective (Antione Bouët, Simon Mevel and David Orden).
5. The World Trade Organisation's Doha Cotton Initiative: A Tale of Two Issues (Kym Anderson and Ernesto Valenzuela).
6. What is at Stake in the Doha Round? (Susanna Kinnman and Magnus Lodefalk).
Part III: Trade Preferences.
7. Rethinking Trade Preferences: How Africa Can Diversify its Exports (Paul Collier and Anthony J. Venables).
Index.
Features


Top economists provide a concise and accessible evaluation of major developments in trade and trade policy

Examines key issues pertinent to the multinational trading system, as well as regional trade arrangements and policy developments at the national level

Analyses trade policy in areas such as Malaysia, Trinidad and Tobago as well as revealing the national security concerns that have become a dominant influence on US trade policy since 2001

Includes a special focus on the Doha Round where contributors evaluate the winners and losers from trade liberalisation and investigate the cotton initiative of the WTO's Doha Development Agenda