The World Today: Concepts and Regions in Geography, 7th Edition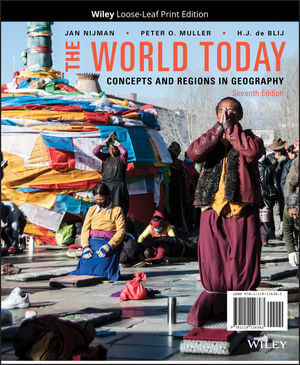 The World Today: Concepts and Regions in Geography, 7th Edition
ISBN: 978-1-119-11640-0
Nov 2015
464 pages
Description
This text is an unbound, three hole punched version. Access to WileyPLUS sold separately.

The World Today, Binder Ready Version, 7th Edition is the number one bestselling brief World Regional Geography textbook. The seventh edition continues to bring readers geographic perspectives on a fast-changing world through the regional view. Restructured chapters provide a macro review of important physical, cultural, and political characteristics, drawing upon up-to-date significant world events and crises. The cartographically superior maps have been updated for the seventh edition to offer an accurate and vast picture of the world--multi-layer, interactive, GIA maps have been added to WileyPLUS Learning Space. To complement the extensive map program, the majority of the photos have been taken by our authors during their field research, allowing the student to experience an authentic geographical viewpoint of our world.
Now Featuring WileyPLUS Learning Space (WPLS) with Orion! WileyPLUS Learning Space is an easy way for students to learn, collaborate, and grow. With WileyPLUS Learning Space, students create a personalized study plan, assess progress along the way, and make deeper connections as they interact with the course material and each other. This collaborative learning environment provides immediate insight into strengths and problem areas through a combination of dynamic course materials and visual reports so that both you and your students can act on what's most important.
WileyPLUS Learning Space also includes ORION–integrated, adaptive practice that helps students build their proficiency on topics and use their study time most effectively.
GIA Activities: Found in WPLS, these new Geographic Information Analysis maps and activities allow students to immediately apply the regional context they have learned and provide the opportunity for new concepts and ideas to take shape interactively, rather than simply memorizing the information. Helps students to recognize that geography is something that you "do" rather than a large encyclopedia of knowledge. They are specifically designed to heighten geographical knowledge, increase spatial awareness and engage students with interactive, GIS-based, spatial analyses.
Map Analysis feature in each chapter, actively drawing students "into" the map through open-ended questions, challenging them to use and develop their critical thinking skills in map interpretation.
Three highly qualified and exceptional new contributors bring youth, gender perspective, and technology expertise to the text. Michael Shin, from UCLA, is a specialist in GIS and all aspects of geography technology, and authored the new interactive GIA activities for each chapter. Richard Grant, an Africanist from the University of Miami, has shared his expertise contributing to the Africa chapter with a wealth of fieldwork and experience in the region. You-Tien Hsing, Pamela P. Fong and Family Distinguished Chair in Chinese Studies at UC Berkeley, has contributed to the East Asia regional chapter.
Restructured Chapters: Replacing the a/b structure of the prior editions, the new edition includes more concise and streamlined coverage of each region within one chapter. Also, the Regional chapters now begin with North America.
From the Field Notes, a hallmark feature, has been updated with many new additions; offering valuable insights from the authors on their fieldwork as well as views from other geographers. Continuing the legacy of Harm de Blij's fieldwork, lead author Jan Nijman has traveled extensively, bringing his photos from the field and his geographic perceptions to this feature.