The World that Changes the World: How Philanthropy, Innovation, and Entrepreneurship are Transforming the Social Ecosystem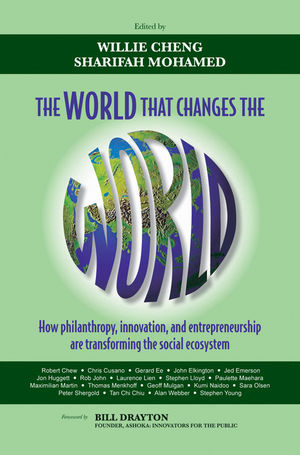 The World that Changes the World: How Philanthropy, Innovation, and Entrepreneurship are Transforming the Social Ecosystem
ISBN: 978-0-470-82715-4 November 2010 Jossey-Bass 408 Pages
Description
If there is an X PRIZE for collaborative thought leadership of the social ecosystem, this book would get it.
Dr. Peter H. Diamandis
Chairman and CEO, X PRIZE Foundation

The World that Changes the World is thought leadership at its best—envisioning the future through reflection and analysis of past trends and contemporary challenges.
Senator the Hon. Ursula Stephens
Australian Parliamentary Secretary for Social Inclusion and the Voluntary Sector

The multifaceted, multinational, multisectoral insights in this volume offer inspiration, ideas, and opportunity for action and impact.
Dr. Melissa A. Berman
President and CEO, Rockefeller Philanthropy Advisors, Inc.

This is a comprehensive primer representing the diversity of perspectives that comprises the evolving global social ecosystem.
Dr. Pamela Hartigan
Director, Skoll Centre for Social Entrepreneurship, Saïd Business School, Oxford University

The World that Changes the World puts together the pieces of this puzzle by explaining how these varied actors of the social ecosystem function and interact with each other.
Matthew Bishop
Co-Author, Philanthrocapitalism: How giving can save the world

A valuable one-stop resource for the many players in, and observers of, the social ecosystem.
Doug Miller
Honorary President, European Venture Philanthropy Association

The World that Changes the World should become the pocket guide for changemakers of the world in the same way that The Lonely Planet is for travelers of the world.
Gib Bulloch
Founder and Executive Director, Accenture Development Partnerships
Acknowledgments.
Foreword (Bill Drayton, Founder, Ashoka: Innovators for the Public).
Abbreviations.
Overview.
0 Introduction
Navigating the Social Ecosystem (Willie Cheng and Sharifah Mohamed, The Editors).
1 The Social Ecosystem
Transitions within the Ecosystem of Change (Willie Cheng, Chairman, Lien Centre for Social Innovation).
Beneficiaries.
2 Unmet Social Needs
Scanning the World's Social Issues (Tan Chi Chiu, Consultant and Managing Director, Gastroenterology & Medicine International).
3 Charity Definition
Different Kinds of Kindness (Sharifah Mohamed, Manager, Lien Centre for Social Innovation).
Social Purpose Entities.
4 Charities
No Charity for Charities (Gerard Ee, Chairman, Council for Third Age).
5 Social Enterprises
Fulfilling the Promise of Social Enterprise (Jon Huggett, Visiting Fellow, Skoll Centre for Social Entrepreneurship, Oxford University).
6 Social Entrepreneurship
Of Pattern Changers and Changemakers (Chris Cusano, Change Leader, ASEAN, Ashoka: Innovators for the Public).
Capacity Builders.
7 Capacity Builders
Making Value Visible (Sara Olsen, Founder, SVT Group).
8 Philanthropy
Powering Philanthropic Passions (Thomas Menkhoff, Practice Associate Professor, Singapore Management University).
9 Venture Philanthropy
Venturing into Entrepreneurial Philanthropy (Rob John, Advisor, Asia Venture Philanthropy Network).
Community.
10 Donor Management
Closing the Funding Gap (Paulette Maehara, President and CEO, Association of Fundraising Professionals).
11 Volunteerism
Matching the Supply and Demand of Volunteers (Laurence Lien, CEO, National Volunteer & Philanthropy Centre).
12 Corporate Social Responsibility
Toward Moral Capitalism (Stephen Young, Global Executive Director, Caux Round Table).
13 Media
Amplifying the Social Beat (Alan Webber, Co-founder, Fast Company).
Government.
14 Government
Affirmative Government for Social Good (Peter Shergold, CEO, Centre for Social Impact).
15 Regulator
Love, Law, and the Regulator (Stephen Lloyd, Senior Partner, Bates Wells & Braithwaite).
Change Enablers.
16 Culture and Leadership
Transformative Leaders Wanted (Maximilian Martin, Senior Partner, IJ Partners).
17 Technology
Rebooting Technology for Society (Robert Chew, Chairman, Information Technology Standards Committee).
18 Social Finance
Financing Change, Changing Finance (Jed Emerson, Founder, Blended Value Group).
Macro-Trends.
19 Global Civil Society
Rallying for Real Change (Kumi Naidoo, Executive Director, Greenpeace International).
20 Social Innovation
Stepping on the Accelerator of Social Change (Geoff Mulgan, Director, The Young Foundation).
21 The Phoenix Economy
Agenda for a Sustainable Future (John Elkington, Co-founder and Executive Chairman, Volans Ventures).
About the Contributors.
Index.