The WorldlyInvestor Guide to Beating the Market: Beat the Pros at Their Own Game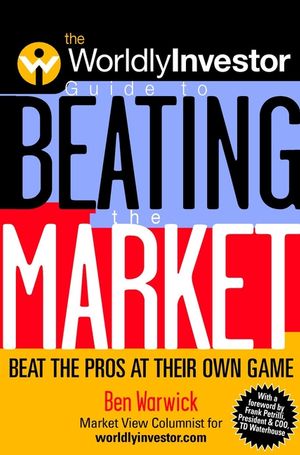 The WorldlyInvestor Guide to Beating the Market: Beat the Pros at Their Own Game
ISBN: 978-0-471-39426-6
Jan 2001
288 pages
Description
Ten proven strategies for market-beating returns from the leading online source of financial analysis and insight
Learn how to make smarter and more profitable investment decisions from The worldlyinvestor.com Guide to Beating the Market. With today's advances in the Internet and the steadily decreasing costs of trading, it might actually be easier for the individual investor to outperform seasoned investment pros at their own game. But, with the huge number of investment choices and all the conflicting advice out there, where should the small investor turn? This book offers ten simple, highly effective strategies to beat the market and the professionals. The Guide shows you:
o Why a ""buy-and-hold"" mutual fund strategy may only benefit fund operators
o New ways to trade value, growth, and momentum stocks
o A simple mutual fund trading strategy that has earned 15% per year with minuscule risk
o How to trade exchange traded funds for maximum profit
Introduction: The Individual Investor of the Next Millennium.

STRATEGIES FOR INDIVIDUAL STOCKS.

Momentum Stocks for the Short Run.

A New Paradigm for Growth Stocks.

Uncovering the Value in Value Stocks.

Distressed Stocks, the Dregs of the Market.

INDEX TRADING WITH EXCHANGE-TRADED FUNDS AND MUTUAL FUNDS.

Exchange-Traded Funds--The Next Generation of Indexed Investing.

Trading ETFs with Publicly Available Informaton.

Exploiting Calendar Effects with Exchange-Traded Funds.

The Strategy Your Mutual Fund Manager Doesn't Want You to Know About.

TOPICS FOR ONLINE INVESTORS.

Using the Internet to Beat the S&P 500 Index.

Three Rules for Investment Success.

The WorldlyInvestor Guide to Selecting Mutual Funds.

Market Timing Strategies with Mutual Funds and Exchange-Traded Funds.

Bibliography.

Additional Recommended Reading.

Glossary.

Index.