The Worldwide History of Telecommunications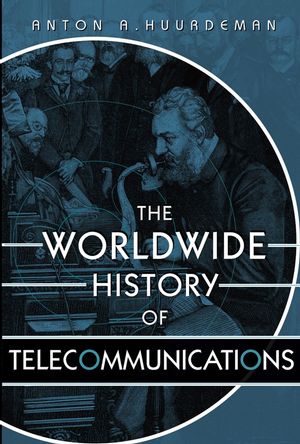 The Worldwide History of Telecommunications
ISBN: 978-0-471-20505-0 July 2003 Wiley-IEEE Press 660 Pages
Description
The first comprehensive history of the Information Age... how we got there and where we are going
The exchange of information is essential for both the organization of nature and the social life of mankind. Until recently, communication between people was more or less limited by geographic proximity. Today, thanks to ongoing innovations in telecommunications, we live in an Information Age where distance has ceased to be an obstacle to the sharing of ideas.
The Worldwide History of Telecommunications is the first comprehensive history ever written on the subject, covering every aspect of telecommunications from a global perspective. In clear, easy-to-understand language, the author presents telecommunications as a uniquely human achievement, dependent on the contributions of many ingenious inventors, discoverers, physicists, and engineers over a period spanning more than two centuries.
From the crude signaling methods employed in antiquity all the way to today's digital era, The Worldwide History of Telecommunications features complete and fascinating coverage of the groundbreaking innovations that have served to make telecommunications the largest industry on earth, including:
Optical telegraphy
Electrical telegraphy via wires and cables
Telephony and telephone switching
Radio transmission technologies
Cryptography
Coaxial and optical fiber networks
Telex and telefax
Multimedia applications
Broad in scope, yet clear and logical in its presentation, this groundbreaking book will serve as an invaluable resource for anyone involved or merely curious about the ever evolving field of telecommunications.
AAP-PSP 2003 Award Winner for excellence in the discipline of the "History of Science"
Table of contents
FOREWORD.
PREFACE.
ACKNOWLEDGMENTS.
PART I: INTRODUCTION AND PERIOD BEFORE 1800.
1. Introduction.
2. Evolution of Telecommunications Up to 1800.
3. Optical Telegraphy.
PART II: PERIOD FROM 1800 TO 1850.
4. Evolution of Telecommunications from 1800 to 1850.
5. Optical Telegraph Systems Worldwide.
6. Electrical Telegraphy.
PART III: PERIOD FROM 1850 TO 1900.
7. Evolution of Telecommunications from 1850 to 1900.
8. Electrical Telegraph Systems Worldwide.
9. Image Telegraphy.
10. Telephony.
11. Telephone Switching.
12. Radio Transmission.
13. International Cooperation.
PART IV: PERIOD FROM 1900 TO 1950.
14. Evolution of Telecommunications from 1900 to 1950.
15. Worldwide Telephone Penetration.
16. Electromechanical Telephone Switching.
17. High-Frequency Radio Transmission.
18. Phototelegraphy.
19. Teleprinters.
20. Copper-Line Transmission.
21. Radio-Relay Transmission.
22. Cryptography.
23. International Cooperation.
PART V: PERIOD FROM 1950 TO 2000.
24. Evolution of Telecommunications from 1950 to 2000.
25. Radio-Relay Networks.
26. Coaxial Cable Transmission.
27. Satellite Transmission.
28. Optical Fiber Transmission.
29. Electronic Switching.
30. Telex.
31. Telefax.
32. Cellular Radio.
33. Telephony and Deregulation.
34. Multimedia.
35. International Cooperation.
APPENDICES.
A. Chronology of the Major Events in the Two Centuries of Telecommunications.
B. Worldwide Statistics of Population, Internet Users, Cellular Phones, and Main Telephones.
C. Glossary.
INDEX.
Reviews
"...a useful...reference and delightful to read." (
IEEE Technology and Society Magazine
, Spring 2005)
"…those interested in the history of telecommunications, do not need to go through numerous publications anymore, this book provides the complete overview from optical telegraphy…to worldwide deregulation and multimedia." (translated from German) (Das Archiv, March 2005)
"…the author describes how telecommunications led to the purchase of Alaska…and how ingenious pioneers created new applications, usually against strong opposition and troublesome patent suits…" (translated from German) (VCV Magazine, November 2004)
"…for this feat of historical research…AAP recognized the book as the Outstanding Professional and Scholarly title in the History of Science in 2003." (The Institute, July 6, 2004)
"...not only for professionals but...for everybody who for private or business reasons looks for an comprehensive and up-to-date source about the complete history of telecommunications." (@Alcatel, No. 2, 2004)
"...a welcome addition to the literature about a pervasive force in modern society...recommended..." (Choice, Vol. 41, No. 5,  January 2004)
"…exceptional for its coverage in time, technologies, geography…political, economic, and social contexts of the technologies and the people responsible for the technical advances." (IEEE History Center Newsletter, November 2003)
"...a superb reference source...one reference book I will never throw away..." (New Scientist, 8 November 2003)