The Writing Systems of the World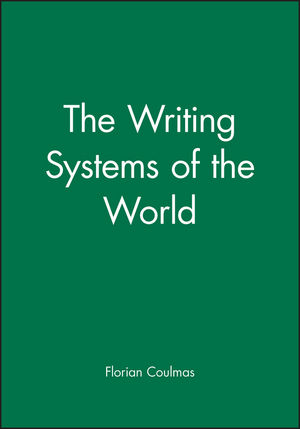 The Writing Systems of the World
ISBN: 978-0-631-18028-9 January 1991 Wiley-Blackwell 316 Pages
Description
This book is an account of the writing systems of the world from earliest times to the present. Its aim is to explore the complex ways in which writing systems relate to the language they depict. Writing, Coulmas contends, is not only the guide or garment of spoken language, but has a deep and lasting effect on the development of language itself.

His study takes in Egyptian hieroglyphics and the cuneiform system of the ancient Near East; he describes Chinese writing, discussing why an apparently cumbersome system has been used continuously for more than 3,000 years; he ranges across the writing systems of western Asia and the Middle East, the Indian families and the various alphabetic traditions which had its origins in the multifarious world of Semitic writing and came to full bloom in pre-Classical Greece.
Preface.
Part I: Theoretical Perspectives:.
1. What Writing Is All About.
2. From Icon to Symbol: The General Trend of Evolution.
3. Units of Speech and Units of Writing.
Part II: Writing Systems:.
4. Sacred Characters: The Theocratic Script of Egypt.
5. From Word to Syllable I: Cuneiform Writing.
6. An Alternative to the Alphabet: The Chinese Writing System.
7. From Word to Syllable II: Chinese Characters for other Languages.
8. Semitic Writing: Syllables or Consonants?.
9. The Alphabet.
10. Writing in India.
Part III: Practical Problems:.
11. From Letter to Sound: Deciphering Written Languages.
12. From Sound to Letter: Creating Alphabets.
13. Writing Reform: Conditions and Implications.
Part IV: Conclusion:.
14. What Writing Means for Linguistics.
References.
Appendix I: Ancient Near Eastern Chronology.
Appendix II: Far Eastern Chronology.
Index.