The X-Factor: Getting Extraordinary Results from Ordinary People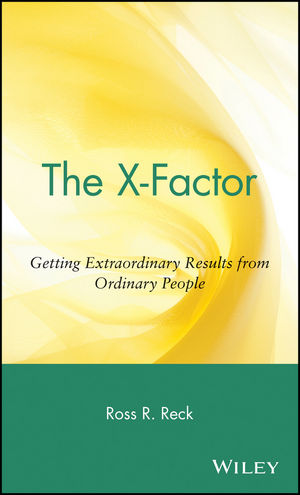 The X-Factor: Getting Extraordinary Results from Ordinary People
ISBN: 978-0-471-44389-6 October 2001 208 Pages
Description
Ross Reck is a consultant who spent the last 15 years developing a four-step management process to help his global clients add millions to their bottom lines. His philosophy is built around what he terms as the "X-factor" -- the secret of getting ordinary people X-cited about going the X-tra mile to help their managers achieve X-traordinary results. The process he builds around it is comprehensive, easy to understand and use, and universal in its application. Presenting his techniques as a business parable, Reck shows how any manager can harness the "X-factor" to achieve extraordinary results from ordinary people.
Introduction.

In Search of a Great Manager.

Meeting A Great Manager.

Discovering the X-Factor.

R_x For Taming The X-Factor.

Step One: Plans.

Step Two: Relationships.

Step Three: Agreements.

Step Four: Maintenance.

Taming the X-Factor With Customers.

Taming the X-Factor With A Labor Union.

The End of a Great Morning.

He Became A Great Manager: A Summary.

Appendix A: Putting The X-Factor To Work.

Appendix B: Using The PRAM Model As A Diagnostic Tool.

Appendix C: Three Factors That Assure Your Success in Taming the X-Factor.

Index.

About the Author.
"...easy to read book..." (Business Plus, May 2002)