The Yale Management Guide for Physicians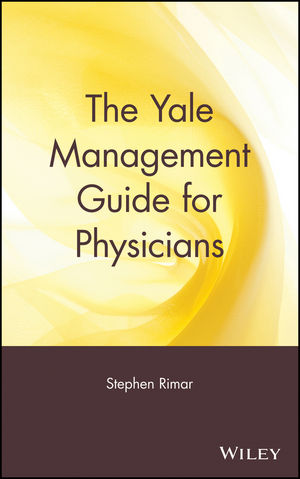 The Yale Management Guide for Physicians
ISBN: 978-0-471-38458-8 April 2001 288 Pages
Description
A real-world education for the twenty-first-century physician

Being a good doctor is no longer enough. The twenty-first-century physician who wants to deliver quality medical care to patients and operate a successful practice must develop expertise in a variety of business and management skills. The Yale Management Guide for Physicians identifies these critical skills and provides both the theoretical understanding and the practical training physicians need to become competent, confident managers as well as accomplished healers.

From healthcare policy and health economics to healthcare marketing and negotiating, this comprehensive guide addresses all of the major issues affecting the delivery of healthcare services in the twenty-first century. This remarkably effective manual helps doctors acquire the skills they need to expand their practices; develop, articulate, and advocate ideas; discuss and manage financial issues; manage the decision-making process; and assume a leadership role in the healthcare industry.

Meticulously cross-referenced and organized, The Yale Management Guide for Physicians is destined to become the most important nonmedical volume in any physician's library, providing easy access to management principles and practical solutions to management problems faced by physicians every day.
Table of contents
Introduction: Physicians and Management (S. Rimar).

HEALTHCARE SYSTEMS.

Introduction to Healthcare Policy (T. Marmor).

How to Change Healthcare Policy from the Office (S. Rimar).

Management Strategy and Health Economics (W. White).

How to Expand a Practice and Retain Control (S. Rimar).

FINANCIAL MANAGEMENT.

Introduction to Accounting (R. Antle).

How to Talk about Money (S. Rimar).

Healthcare Financial Management (E. Bradley).

How to Convince Someone an Idea Is Worth the Money (S. Rimar).

An Introduction to Economic Evaluation (A. Paltiel).

How to Evaluate a Proposal (S. Rimar).

ORGANIZATIONAL MANAGEMENT.

Leadership Style: Managing the Decision-Making Process (V. Vroom).

How to Be a Leader (S. Rimar).

Leading and Managing a Negotiation Process (C. McCusker).

How to Negotiate (S. Rimar).

Contemporary Marketing in Healthcare (J. Wack & W. Gombeski).

How to Position a Practice to Get More Business (S. Rimar).

ESSENTIAL MANAGEMENT SKILLS.

The Business Plan (S. Rimar).

How to Develop a Plan for a Practice (S. Rimar).

Selling an Idea (S. Rimar).

How to Make an Oral Presentation (S. Rimar).

Index.