The Year's Work in Critical and Cultural Theory 1992, Volume 2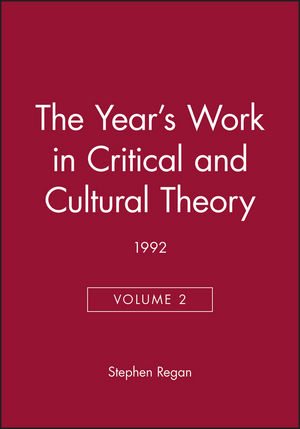 The Year's Work in Critical and Cultural Theory 1992, Volume 2
ISBN: 978-0-631-18859-9
Jan 1996, Wiley-Blackwell
368 pages
Description
The Year's Work in Critical and Cultural Theory is a major annual publication derived from its sister volume The Year's Work in English Studies . It provides a comprehensive collection of theoretical essays with bibliographies for work published in a given year.
Volume 2 evaluates work published in 1992.
Preface.
Part I: Critical and Social Theory:.
1. Critical Theory: General: S. Sim (University of Sunderland).
2. Rhetoric and Deconstruction: R. Jarvis (University of the West of England, Bristol).
3. Semiotics: A. Page.
4. Hermeneutics: K. Littau.
5. Intertextuality: G. Allen.
6. Psychoanalysis: V. Lebeau (University of Sussex).
7. Feminism: S. Mills (Loughborough University). with K. Burlinson, A. Sandhu, P. Polkey, J. Goldman, V. Kolocotroni, L. Brimstone and M. Metzstein.
8. Historicism: T. Pinkney (Lancaster University).
9. Colonial Discourse/Postcolonial Theory: P. Williams (Nottingham Trent University).
10. Art History: J. Harris (University of Keele).
11. Popular Music: D. Buckley (Munich).
12. Media Theory: D. Longhurst.
Part II: An International Perspective of Critical and Cultural Theory:.
13. Speechless Monads, Power-Free Discourse and Techno Trance: Critical and Cultural Theory in Germany Today: R. Emig.
14. Feminism and Theory in Italy: S. Wood.
15. Althusser After Marxism: S. Smith.
16. Modern Western Literary Theories and Russian Cultural Policy (1930s-1990s): A. V. Lashkevitch.
17. Specific Interliterary Communities and the Comparative Study of Literature: Y. Azarov.
18. Home of Memory: Hospitality, Closure and Eastern Europe: T. Slawek.
19. Post-1989 Bulgarian Literary Theory and Criticism: T Stoicheva.
Index to Part I.
Essential humanities library purchase
Full bibliographies and comprehensive index
Expanded coverage of critical and cultural theory
Special feature: seven newly commissioned pieces providing post-Glasnost European perspectives.