The Year in Cognitive Neuroscience 2009, Volume 1156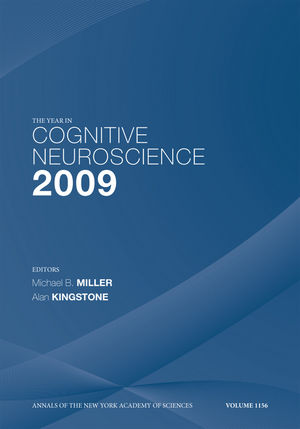 The Year in Cognitive Neuroscience 2009, Volume 1156
ISBN: 978-1-573-31752-8
Apr 2009, Wiley-Blackwell
300 pages
Description
This volume features in-depth reviews of the major issues and emerging topics in cognitive neurosciences. The contributors are among the top researchers in the field.

NOTE: Annals volumes are available for sale as individual books or as a journal. For information on institutional journal subscriptions, please visit www.blackwellpublishing.com/nyas.

ACADEMY MEMBERS: Please contact the New York Academy of Sciences directly to place your order (www.nyas.org). Members of the New York Academy of Science receive full-text access to the Annals online and discounts on print volumes. Please visit http://www.nyas.org/MemberCenter/Join.aspx for more information about becoming a member.


 
Preface: Michael B. Miller and Alan Kingstone.
1. Genes, Cognition, and Communication: Insights from Neurodevelopmental Disorders: Dorothy V.M. Bishop.
2. The Evolution of Language: Michael C. Corballis.
3. In Search of a Unifying Theory of Complex Brain Evolution: Leah Krubitzer.
4. Autism: The Empathizing-Systemizing (E-S) Theory: Simon Baron-Cohen.
5. The Social Neuroscience of Empathy: Tania Singer and Claus Lamm.
6. Embodied Cognition and The Simulation of Action to Understand Others: Scott T. Grafton.
7. Human Social Attention: A New Look at Past, Present, and Future Investigations: Elina Birmingham and Alan Kingstone.
8. Attention, Automaticity, and Awareness in Synaesthesia: Jason B. Mattingley.
9. The Role of Sleep in Cognition and Emotion: Matthew P. Walker.
10. Neurobiological Mechanisms of Placebo Responses. By Jon-Kar Zubieta.
11. Current Advances in the Cognitive Neuroscience of Music: Daniel J. Levitin & Anna K. Tirovolas.
12. Origins of Mathematical Intuitions: The Case of Arithmetic: Stanislas Dehaene.
13. What's New in Neuroimaging Methods?: Peter A. Bandettini.
Index of Contributors.