The Year in Ecology and Conservation Biology, Volume 1286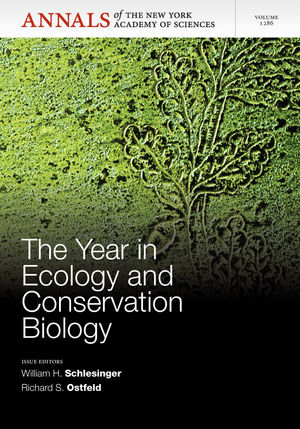 The Year in Ecology and Conservation Biology, Volume 1286
ISBN: 978-1-573-31883-9 June 2013 Wiley-Blackwell 252 Pages
Description
As in past installments of "The Year in Ecology and Conservation Biology" series, this year's volume contains a diverse collection of timely reviews in conservation biology and scientific, policy, and management implications, including reviews in the following areas: The Marine Mammal Protection Act at 40: Status, recovery, and future of U.S. marine mammals; translocation of imperiled species under changing climates; ecology and conservation of ginseng (Panax quinquefolius) in a changing world; risks to biodiversity from hydraulic fracturing for natural gas in the Marcellus and Utica Shales; species-area relationships and extinction forecasts; and Bounded Ranges of Variation as a framework for future conservation and fire management.
NOTE: Annals volumes are available for sale as individual books or as a journal. For information on institutional journal subscriptions, please visit http://ordering.onlinelibrary.wiley.com/subs.asp?ref=1749-6632&10.1111/(ISSN)1749-6632
ACADEMY MEMBERS: Please contact the New York Academy of Sciences directly to place your order (www.nyas.org). Members of the New York Academy Science receive full-text access to Annals online and discounts on print volumes. Please visit http://www.nyas.org/MemberCenter/Join.aspx for more information about becoming a member.
Table of contents
Risks to biodiversity from hydraulic fracturing for natural gas in the Marcellus and Utica Shales 1
Erik Kiviat
Translocation of imperiled species under changing climates 15
Mark W. Schwartz and Tara G. Martin
The Marine Mammal Protection Act at 40: status, recovery, and future of U.S. marine mammals 29
Joe Roman, Irit Altman, Meagan M. Dunphy-Daly, Caitlin Campbell, Michael Jasny, and Andrew J. Read
Species-area Relationships and extinction forecasts 50
John M. Halley, Vasiliki Sgardeli, and Nikolaos Monokrousos
Ecology and conservation of ginseng (Panax quinquefolius) in a changing world 62
James B. McGraw, Anne E. Lubbers, Martha Van der Voort Emily H. Mooney, Mary Ann Furedi,
Sara Souther, Jessica B. Turner, and Jennifer Chandler

Bounded ranges of variation as a framework for a future conservation and fire management 92
Max A. Moritz, Matthew D. Hurteau, Katherine N. Suding, and Carla M. D'Antonio