The Year in Immunology: Immunoregulatory Mechanisms, Volume 1247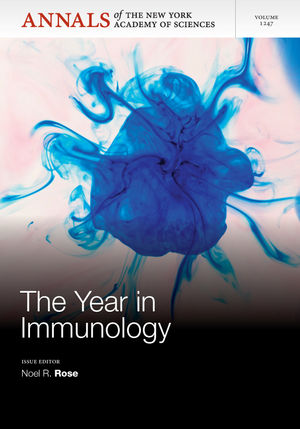 The Year in Immunology: Immunoregulatory Mechanisms, Volume 1247
ISBN: 978-1-573-31864-8
Mar 2012
250 pages
Description
The fourth installment of "The Year in Immunology" series features reviews of novel approaches in the investigation of immunoregulatory mechanisms. Topics surveyed include cutting-edge molecular studies and treatment advances for systemic lupus erythmatosus and multiple sclerosis, the genetic regulation of lymphocytes and T cells, and new models of immunosenescence.

NOTE: Annals volumes are available for sale as individual books or as a journal. For information on institutional journal subscriptions, please visit http://ordering.onlinelibrary.wiley.com/subs.asp?ref=1749-6632&doi=10.1111/(ISSN)1749-6632.



ACADEMY MEMBERS: Please contact the New York Academy of Sciences directly to place your order (www.nyas.org). Members of the New York Academy of Science receive full-text access to Annals online and discounts on print volumes. Please visit http://www.nyas.org/MemberCenter/Join.aspx for more information about becoming a member.
Preface
Noel R. Rose
Lymphoid tissue inducer cells: innate cells critical for CD4+ T cell memory responses?
Peter J.L. Lane, Fabrina M. Gaspal, Fiona M. McConnell, Mi Yeon Kim, Graham Anderson and David R. Withers
Regulation of mature T cell responses by the Wnt signaling pathway
Hai-Hui Xue and Dong-Mei Zhao
Development and function of interleukin 17-producing ?d T cells:
Thomas Korn and Franziska Petermann
Lymphocyte signaling: regulation of FoxO transcription factors by microRNAs
Claudia Haftmann, Anna-Barbara Stittrich, Evridiki Sgouroudis, Mareen Matz, Hyun-Dong Chang, Andreas Radbruch and Mir-Farzin Mashreghi
From interleukin-9 to T helper 9 cells
Michael Stassen, Edgar Schmitt and Tobias Bopp
Mechanisms of immunosenescence: lessons from models of accelerated immune aging
Sabine Le Saux, Cornelia M. Weyand and Jörg J. Goronzy
Helminth–host immunological interactions: prevention and control of immune-mediated diseases
David E. Elliott and Joel V. Weinstock
Induction of gut IgA production through T cell-dependent and T cell-independent pathways
Mats Bemark, Preben Boysen and Nils Y. Lycke
New and emerging disease modifying therapies for multiple sclerosis
Shiv Saidha, Christopher Eckstein and Peter A. Calabresi
Treatment of systemic lupus erythematosus: new advances in targeted therapy
Mindy S. Lo and George C. Tsokos