The Year in Immunology 2008, Volume 1143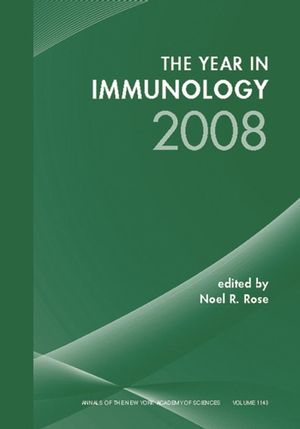 The Year in Immunology 2008, Volume 1143
ISBN: 978-1-573-31729-0 December 2008 Wiley-Blackwell 400 Pages
Description
This volume highlights the latest information and newest understanding in immunology. It encompasses both basic research and clinical applications of the latest immunologic knowledge.
NOTE: Annals volumes are available for sale as individual books or as a journal. For information on institutional journal subscriptions, please visit www.blackwellpublishing.com/nyas.
ACADEMY MEMBERS: Please contact the New York Academy of Sciences directly to place your order (www.nyas.org). Members of the New York Academy of Science receive full-text access to the Annals online and discounts on print volumes. Please visit http://www.nyas.org/MemberCenter/Join.aspx for more information about becoming a member
Table of contents
Preface: Noel R. Rose.
1. TLR and TLR Signaling: Taro Kawai and Shizuo Akira.
2. TLR in Autoimmunity: Maria Fischer and Marc Ehlers.
3. CARD9 Signaling in the Innate Immune Response: Jürgen Ruland.
4. β-Glucans and Dectin-1: S. Vicky Tsoni and Gordon D. Brown.
5. Basic and Clinical Immunology of Siglecs: Stephen von Gunten and Bruce S. Bochner.
6. Mast Cells: Multifaceted Immune Cells with Diverse Roles in Health and Disease: Kavitha N. Rao and Melissa A. Brown.
7. The Thymus Medulla Slowly Yields Its Secrets: Lars-Oliver Tykocinski, Anna Sinemus, and Bruno Kyewski.
8. RANK/RANKL: Regulators of Immune Response and Bone Physiology: Andreas Leibbrandt and Josef M. Penninger.
9. Functional Analysis of FOXP3: Jane H. Buckner and Steven F. Ziegler.
10. Retinoic Acid in the Immune System: Karina Pino-Lagos, Micah J. Benson, and Randolph J. Noelle.
11. Regulation and Function of Proinflammatory TH17 Cells: Gustavo J. Martinez, Roza I. Nurieva, Xuexian O. Yang, and Chen Dong.
12. Recalling the Year in Memory T Cells: Nicholas D. Bushard and Donna L. Farber.
13. MicroRNAs and Their Emerging Roles in Immunology: Kaleb M. Pauley and Edward K. L. Cha.
14. Immunology of Mercury: Jaya Vas and Marc Monestier.
15. Anti-CCP Antibody: A Marker for the Early Detection of Rheumatoid Arthritis: Walter J. van Venrooij, Joyce J. B. C. van Beers, and Ger J. M. Pruijn.
Index of Contributors