The Zen of Fundraising: 89 Timeless Ideas to Strengthen and Develop Your Donor Relationships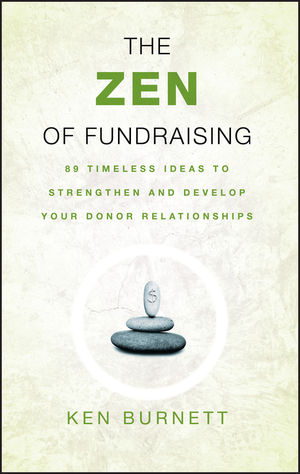 The Zen of Fundraising: 89 Timeless Ideas to Strengthen and Develop Your Donor Relationships
ISBN: 978-1-118-04708-8 January 2011 Jossey-Bass 180 Pages
Description
If all that has ever been said and written about the art and science of fundraising could be distilled down to just what really matters—what fundraisers everywhere need to know—there would be only a small number of true gems deserving of the description, "nuggets of information."
Leading international fundraiser Ken Burnett, author of the classic Relationship Fundraising, has identified and defined 89 such nuggets which he presents here as The Zen of Fundraising, a fun read, one-of-a-kind look into what makes donors tick and–more importantly–what makes them give.
Table of contents
Introduction.
All You Really Need to Know About Donor Relationship Development.
Chapter One: Playing Smart and Preparing for Action.
The Trouble with Fundraising; Plus 15 Things I'd Do If I Were the New Head of Donor Development.
Chapter Two: Right from the Start.
10 Concepts That Will Ensure Your Thinking Is Sound.
Chapter Three: Keep Revisiting the Basics.
19 Gold Nuggets: The Solid Foundations of Fundraising.
Chapter Four: Getting Your Messages Spot On: Appreciated, Understood, and Remembered.
14 Keys to Communications That Reach In and Grab Audiences.
Chapter Five: What's Essential?
12 Important Things to Think of When Relating to Your Donors.
Chapter Six: What Underpins It All?
6 Vital Characteristics of the Effective Relationship Fundraiser.
Chapter Seven: What's Next?
13 Things That Will Be Coming Your Way.
Acknowledgments.
When It Comes to Saying Thank You, This Book Practices What It Preaches.
About the Author.