Theology After Liberalism: Classical and Contemporary Readings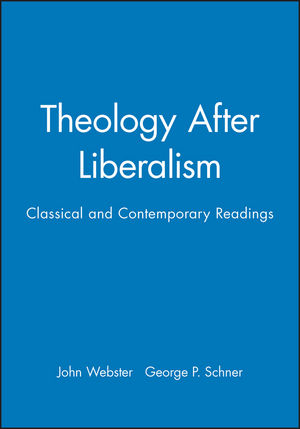 Theology After Liberalism: Classical and Contemporary Readings
ISBN: 978-0-631-20563-0
Apr 2000, Wiley-Blackwell
416 pages
Description
This reader brings together texts which articulate or debate with the mode of theology most commonly identified as 'post-liberal'.
List of Contributors.
Preface.
Acknowledgements.
Part I Introduction.
Metaphors for Theology (George P. Schner).
Theology after Liberalism (John Webster).
Part II Doctrines.
Identity Description and Jesus Christ (Hans Frei).
The Triune God: The Perichoresis of Particular Persons (William Placher).
The Atonement and the Triune God (Colin Gunton).
Freedom and Reality (Oliver O'Donovan).
Theology in Dialogue (J. Augustine DiNoia).
Part III Methods.
Beyond the Hermeneutical Deadlock (James J. Buckley).
Tradition and the Tacit (Andrew Louth).
Self-Critical Cultures and Divine Transcendence (Kathryn Tanner).
Depth of Self-Awareness and Breadth of Vision: Joining Reflection and Interpretation (Frans Jozef van Beeck).
Part IV Criticisms.
Feminist Theology: Language, Gender and Power (Mary McClintock Fulkerson).
Postmodern Theology and the Judgement of the World (Rowan Williams).
The Uneasy Alliance Reconceived: Catholic Theological Method, Modernity and Postmodernity (David Tracy).
Part V Afterword.
Toward a Postliberal Theology (George A. Lindeck).
Index
"Having grown out of classroom use for postgraduate students, the good introductory material make this reader quite appropriate as a taster for final-year undergraduates. A collection like this serves a useful function in helping students discover a good range of contemporary material in a short time."
International Journal of Systematic Theology <!--end-->
"These readings do a good job of acquainting the reader with the major characteristics of postliberalism and the ferment it has sparked. I recommend it to those seeking to understand these contemporary developments in theology." The Southern Baptist Journal of Theology

"The editors have done a wonderful job of selecting and organizing the pieces which, taken together, provide an excellent introduction to an important project." Toronto Journal of Theology
Brings together a wide range of texts articulating or debating 'post-liberal' theology.

Includes various critiques of 'post-liberal' theology.

Includes two substantial editorial essays by John Webster and George Schner.