Theories of Reading: Books, Bodies, and Bibliomania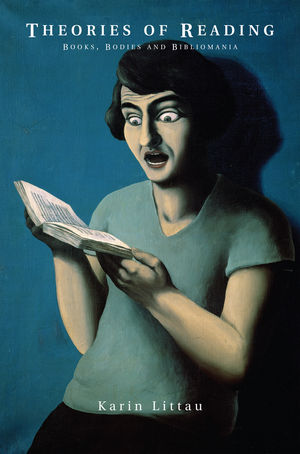 Theories of Reading: Books, Bodies, and Bibliomania
ISBN: 978-0-745-61658-2
Feb 2007, Polity
208 pages
Description
Why do literary theorists see reading as an act of dispassionate textual analysis and meaning production, when historical evidence shows that readers have often read excessively, obsessively, and for sensory stimulation? Posing these and other questions, this is the first major work to bring insights from book history to bear on literary history and theory. In so doing, the book charts a compelling and innovative history of theories of reading.

While literary theorists have greatly contributed to our understanding of the text-reader relation, they have rarely taken into account that the relation between a book and a reader is also a relation between two bodies: one made of paper and ink, the other flesh and blood. This is why, Karin Littau argues, we need to look beyond the words on the page, and pay attention to the technical innovations in the physical format of the book. Only then is it possible to understand more fully how media technology has changed our experience of reading, and why media history presents a challenge to our conceptions of what reading is.

Each chapter places the reader in specific disciplinary and historical contexts: literature, criticism, philosophy, cultural history, bibliography, film, new media. Overall, the history recounted in this book points to a split between modern literary study which regards reading as a reducibly mental activity, and a tradition reaching back to antiquity which assumed that reading was not only about sense-making but also about sensation.

Theories of Reading: Books, Bodies and Bibliomania will be essential reading for all students and scholars of literary theory and history as well as of great interest to students of the history of the book and new media.
List of Illustrations.
Acknowledgements.
Introduction: Anatomy of Reading.
(Books; Bibliomania; Bodies).
1. A History of Reading.
(From Reading Aloud to Reading Silently; From Monastic to Scholastic Reading; Reading in Solitude; From Intensive to Extensive Reading).
2. The Material Conditions of Reading.
(Expressive Function of Print; Instability of the Textual Object; Histories of Textual Transmission; From Manuscript to Typographic Culture; from Print to Hypermedia Culture).
3. The Physiology of Consumption.
(Side-effects of Reading; Reading-Fever; Reading Addiction; Modernity and the Assault on the Senses; Eye-Strain and Eye-Hunger; Film-Fever; Dazzling the Audience; Dizzy in Hyperspace; (Dis)Embodied in Cyberspace; Passive Consumers).
4. The Reader in Fiction.
(Dangers of Reading; The Tearful Reader; The Frightened Reader; The Passionate Reader; Pathology of Reading; Reading Games; The Danger of a Future without Books; Multisensory Media).
5. The Role of Affect in Literary Criticism.
(Reading with/out Pathos; Docere-Delectare-Movere; From Reader to Author to Text; Disinterested and Contemplative Reading; Close Reading; Reading for Sense rather than Sensation).
6. The Reader in Theory.
(Un/Readability; A Priori Conditions of Reading; Controlling Readers' Responses; Reading Expectations; Conventions of Reading; Interpretive Communities; Failure of Reading; Misreading; The Reader as Writer; The Politics of Difference).
7. Sexual Politics of Reading.
(The Resisting Reader; Black Women Readers; Empirical Audiences; Active Consumers; "Low-/Middle-/Highbrow" Reading; Embodied Reading; Reading as/like a Woman; The Feminisation of the Reader).
Conclusion: Materialist Readings.
Notes.
References and Bibliography.
Index
"Littau has not only researched the archives of reader-response criticism exhaustively but thought long and hard about what each author represents in terms of the values associated with reading.
Theories of Reading
will thus prove an invaluable resource for all students new to the field of reader/reception theory, as well as for supervisors keen for their graduate students to reflect a little more critically on their own textual practice ... a rich, thorough and impeccably researched study that combines scholarship, historiography, and theoretical reflection in an impressive, and wholly engaging way."
Modern Philology
"It offers a useful survey of how reading since the advent of the printing press has been to do not only with intellectual, disembodied responses but also with embodied ones ... This book therefore marks an important step in challenging 'high' theory (and not only theories of reading) to reprioritise matter."
Forum for Modern Language Studies
"Littau's book is genuinely original in its ambitious intellectual range, creating a convergence of academic streams which few in the fiefdom-ridden world of academic life have risked ... Theories of Reading deserves to become known to a wide—and appropriately self-conscious—audience of readers."
Script & Print
"Wide ranging and interdisciplinary in scope, Littau's work offers a unique summary of current critical understanding of reading and readership studies. It sensitively combines excellent summaries of cultural and literary theories of reading with robust considerations of the material nature of written texts, drawing our attention to the way technology has shaped reading sensibilities and thinking itself. This is an essential text for those involved in studying the interaction of readers with texts from both material and interpretive perspectives."
David Finkelstein, Queen Margaret University College, Edinburgh


A compelling history of theories of reading, a common component of literary theory and history of the book courses at undergraduate level.

This is the first major work to bring insights from book history to bear on literary history and theory.

One of the first books to examine systematically the impacts of digital technologies on both the material book and the physical reader.

Each chapter places the reader in a specific disciplinary and historical context: literature, criticism, philosophy, cultural history, bibliography, film, new media.

Essential reading for students of literary theory and of the history of the book.