Theory and Practice of Infrared Technology for Nondestructive Testing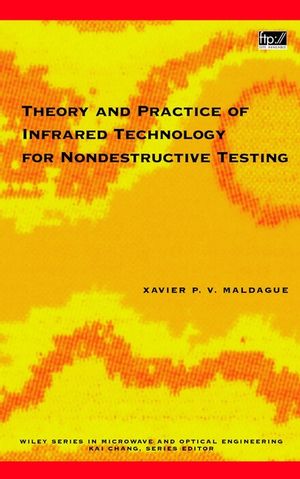 Theory and Practice of Infrared Technology for Nondestructive Testing
ISBN: 978-0-471-18190-3 April 2001 704 Pages
Description
The book includes fundamental concepts of theory, instrumentation, and experimental practice as well as practical applications. An important chapter setting the book apart from other publications describes the properties of materials and presents case studies from industry. In addition, a program called IRNDT accompanies the book and is available on the Wiley ftp site. The program includes an image bank that can be used to test the principles covered in the book.
* All chapters end with summaries, problems, and questions.
* Authored by an acknowledged expert in the field.
* Material draws on case studies to illustrate major points.
Table of contents
Preface.

Getting Started with Thermography for Nondestructive Testing.

FUNDAMENTAL CONCEPTS.

Introduction to Thermal Emission.

Introduction to Heat Transfer.

Infrared Sensors and Optic Fundamentals.

Images.

Automated Image Analysis.

Materials.

Experimental Concepts.

ACTIVE THERMOGRAPHY.

Active Thermography.

Quantitative Data Analysis in Active Thermography.

ACTIVE AND PASSIVE THERMOGRAPHY: CASE STUDIES.

Applications.

References and Bibliography.

Appendix A: Computer Model.

Appendix B: Smoothing Routing.

Appendix C: Parabola Computations.

Appendix D: Higher-Order Gradient Computations Based on the Roberts Gradient.

Appendix E: Properties of Metals and Nonmetals.

Appendix F: Matlab M-Scripts Available.

Index.
Reviews
"A textbook to be used in a curriculum of advanced material engineering, with enough practical aspects covered to support associated laboratory sessions as well." (SciTech Book News, Vol. 25, No. 3, September 2001)
What's New
A program called IRNDT accompanies the book and is available on the Wiley ftp site.