Theory and Practice of Radiation Thermometry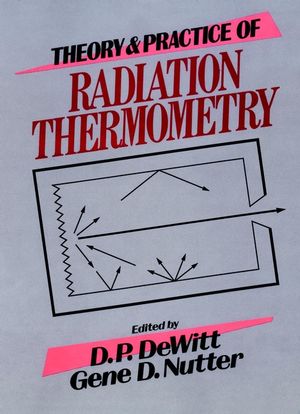 Theory and Practice of Radiation Thermometry
ISBN: 978-0-471-61018-2 December 1988 1152 Pages
Description
Here is the most comprehensive treatment available on practical temperature measurement methods using radiation thermometry. All aspects of measurement technology are covered: basic principles, types of radiation thermometers, calibration methods, and applications. Covers the latest instruments and discusses the central problem of radiation thermometry--how to infer the true temperature from the indicated temperature. Generously illustrated.
Table of contents
Partial table of contents:

FUNDAMENTALS OF RADIOMETRIC TEMPERATURE MEASUREMENT.

Physics of Thermal Radiation (D. DeWitt & F. Incropera).

Thermal Radiative Properties of Materials (D. DeWitt & J.Richmond).

RADIATION THERMOMETERS AND MEASUREMENT METHODS.

Wide-Band Radiation Thermometers (R. Leftwich).

Fast Radiation Thermometry (A. Cezairliyan, et al.).

METHODS FOR CALIBRATION OF RADIATION THERMOMETERS.

Calculation of Effective Emissivities of Cavity Sources of ThermalRadiation (R. Bedford).

Detector-Based Traceability of Temperature Standards (A. Ono, etal.).

APPLICATIONS OF RADIATION THERMOMETRY.

Radiation Thermometry in the Steel Industry (F. Milhalow).

The Application of Thermography for Building and Industrial EnergyManagement (P. Mill & G. McIntosh).

Index.