Theory and Practice of Water and Wastewater Treatment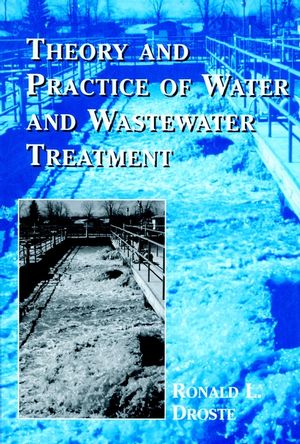 Theory and Practice of Water and Wastewater Treatment
ISBN: 978-0-471-12444-3
Sep 1996
816 pages
Description
This text provides the most current and comprehensive coverage available of the ever-evolving field of Wastewater Treatment. Droste explores the broad spectrum of technologies used in practice today, ranging from commonly-used standards to the latest state of the art innovations that are absent from most existing texts. Both theory and design concepts are developed systematically, combined in a unified way, and are fully supported by comprehensive, illustrative examples.
Chemistry
* Basic Chemistry
* The Thermodynamic Basis for Equilibrium
* Acid-Base Chemistry
* Organic and Biochemistry
* Analysis and Constituents in Water
Microorganisms in Water and Water Quality
* Microbiology
* Water, Wastes, and Disease
* Water Components and Quality Standards
Water and Wastewater Treatment
* Water and Wastewater Treatment Operations
* Mass Balances and Hydraulic Flow Regimes
Physical-Chemical Treatment Processes
* Screening and Sedimentation
* Mass Transfer and Aeration
* Coagulation and Flocculation
* Filtration
* Physical-Chemical Treatment for Dissolved Constituents
* Disinfection
Biological Wastewater Treatment
* Aerobic Biological Treatment
* Anaerobic Wastewater Treatment
* Treatment in Ponds, Land Systems, and Wetlands
* Sludge Processing and Land Application
* Effluent Disposal in Natural Waters
Appendix
Index
Places appropriate stress on the fundamentals, without neglecting the latest standards, technologies, and theories that constitute the "cutting edge" of water and wastewater management.
Includes over 100 more thought-provoking end-of chapter problems and questions than most other texts, to lessen the need for designing additional problems for homework and exams.
Combines both "Water" and "Wastewater" Processes in a unified way, surpassing the divided presentation found in similar texts.
Features SI units throughout to familiarize students with the use of this growing standard, with 80% of examples accompanied by duplicate U.S. units.