Therapeutic Groups for Obese Women: A Group Leader's Handbook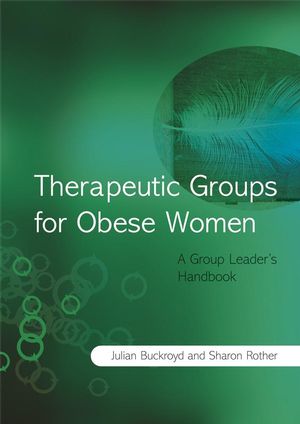 Therapeutic Groups for Obese Women: A Group Leader's Handbook
ISBN: 978-0-470-03448-4
May 2007
232 pages
Description
Based on a five-year research project, Therapeutic Groups for Obese Women introduces an innovative approach to overcoming the growing socio-economic burden of morbidity and mortality resulting from emotionally-driven female obesity. Julia Buckroyd and Sharon Rother (both of the Obesity and Eating Disorders Research Unit at the University of Hertfordshire), offer a complete 36-week programme based on emotional intelligence and the removal of barriers to improvement, along with learning tools for clinicians to use with participants. Worksheets and a range of other tools are provided as appendices.
About the Authors.
Preface.
Acknowledgements.
Introduction.
PART I: BACKGROUND.
Chapter 1 Guiding Principles.
Chapter 2 Transtheoretical Elements of the Treatment.
Chapter 3 Constituent Parts of the Treatment.
Chapter 4 Description of the Research Programme.
Chapter 5 Experience of Running the Treatment Groups.
Chapter 6 Training for Leading a Treatment Group.
PART II: THE PROGRAMME.
Introduction to the Programme.
Session 1.
Session 2.
Session 3.
Session 4.
Session 5.
Session 6.
Session 7.
Session 8.
Session 9.
Session 10.
Session 11.
Session 12.
Session 13.
Session 14.
Session 15.
Session 16.
Session 17.
Session 18.
Session 19.
Session 20.
Session 21.
Session 22.
Session 23.
Session 24.
Session 25.
Session 26.
Session 27.
Session 28.
Session 29.
Session 30.
Session 31.
Session 32.
Session 33.
Session 34.
Session 35.
Session 36.
PART III: APPENDICES.
Appendix 1 Group Confidentiality Statement.
Appendix 2 Outline of the programme.
Appendix 3 Process of change.
Appendix 4 Food and mood sheet.
Appendix 5 How a child learns to manage feelings.
Appendix 6 Meal Planner.
Appendix 7 Questions for 'Food in the Family' Exercise.
Appendix 8 Overview of first 12 weeks.
Appendix 9 Guided fantasy.
Appendix 10 Overview of first 24 weeks.
Appendix 11 Overview of entire 36 weeks.
References.
Index.