Therapeutic Monoclonal Antibodies: From Bench to Clinic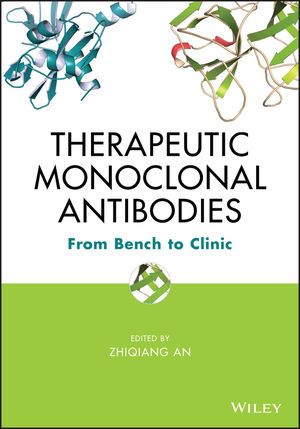 Therapeutic Monoclonal Antibodies: From Bench to Clinic
ISBN: 978-1-118-21026-0
Sep 2011
896 pages
Description
70-chapter authoritative reference that covers therapeutic monoclonal antibody discovery, development, and clinical applications while incorporating principles, experimental data, and methodologies.
First book to address the discovery and development of antibody therapeutics in their entirety.
Most chapters contain experimental data to illustrate the principles described in them.
Authors provide detailed methodologies that readers can take away with them and use in their own laboratories.
FOREWORD ix
PREFACE xi
CONTRIBUTORS xiii
PART I ANTIBODY BASICS.
1. Therapeutic Monoclonal Antibodies: Past, Present, and Future 3
William R. Strohl
2. Antibody Molecular Structure 51
Robyn L. Stanfield and Ian A. Wilson
3. Glycosylation of Therapeutic IgGs 67
Yusuke Mimura, Roy Jefferis, Yuka Mimura-Kimura, Jodie Abrahams, and Pauline M. Rudd
4. Antibody Databases and Tools: The IMGTw Experience 91
Marie-Paule Lefranc
PART II ANTIBODY SOURCES.
5. Human Antibodies from Transgenic Mice 117
Nils Lonberg
6. Rabbit Hybridoma 151
Weimin Zhu and Guo-Liang Yu
7. Human Antibody Repertoire Libraries 169
David Lowe and Tristan J. Vaughan
PART III IN VITRO DISPLAY TECHNOLOGY.
8. Antibody Phage Display 191
Michael Hust, Holger Thie, Thomas Schirrmann, and Stefan Dubel
9. Yeast Surface Display 213
Jennifer L. Lahti and Jennifer R. Cochran
10. Ribosomal Display 239
George Thom
11. Bacterial Display of Antibodies 255
Thomas J. Van Blarcom and Barrett R. Harvey
12. Antibody Selection from Immunoglobulin Libraries Expressed in Mammalian Cells 283
Ernest S. Smith and Maurice Zauderer
PART IV ANTIBODY ENGINEERING.
13. Antibody Engineering: Humanization, Affinity Maturation, and Selection Techniques 311
Juan C. Almagro and William R. Strohl
14. Modulation of Serum Protein Homeostasis and Transcytosis by the Neonatal Fc Receptor 335
William F. Dall'Acqua and Herren Wu
15. Engineering the Antibody Fc Region for Optimal Effector Function 349
Greg A. Lazar and John R. Desjarlais
PART V PHYSIOLOGY AND IN VIVO BIOLOGY.
16. Antibody-Complement Interaction 373
Kileen L. Mershon and Sherie L. Morrison
17. Bacteria Immunoglobulin-Binding Proteins: Biology and Practical Applications 385
Leslie Cope and Tessie McNeely
18. Immunogenicity Screening Using in Silico Methods: Correlation between T-Cell Epitope Content and Clinical Immunogenicity of Monoclonal Antibodies 417
Si-Han Hai, Julie A. McMurry, Paul M. Knopf, William Martin, and Anne S. De Groot
19. Monoclonal Antibody Pharmacokinetics and Pharmacodynamics 439
Christopher R. Gibson, Punam Sandhu, and William D. Hanley
20. Biodistribution and Imaging 461
Tove Olafsen and Anna M. Wu
21. Antibodies and the Blood-Brain Barrier 483
Angela R. Jones and Eric V. Shusta
PART VI ANTIBODY CHARACTERIZATION.
22. Determination of Equilibrium Dissociation Constants 505
Robin E. Ernst, Katrina N. High, Tom R. Glass, and Qinjian Zhao
23. Molecular and Functional Characterization of Monoclonal Antibodies 525
Qinjian Zhao, Terrance A. Stadheim, Lorenzo Chen, and Michael W. Washabaugh
24. Characterization of Heterogeneity in Monoclonal Antibody Products 541
Yang Wang, Michael W. Washabaugh, and Qinjian Zhao
PART VII ANTIBODY EXPRESSION.
25. Antibody Expression in Mammalian Cells 557
Fubao Wang, Lorenzo Chen, Neal Connors, and Henryk Mach
26. Production of Antibodies in Pichia pastoris 573
Juergen H. Nett
27. Production of Antibody Fab0 Fragments in E. coli 589
David P. Humphreys and Leigh Bowering
28. Production of Human Therapeutic Monoclonal Antibodies in Chicken Eggs 623
Lei Zhu and Robert J. Etches
29. Production of Antibodies in Plants 651
Kevin M. Cox, Jeffrey T. Regan, Jason D. Sterling, Vincent P. M. Wingate, and Lynn F. Dickey
PART VIII THERAPEUTIC ANTIBODIES.
30. The Formulation and Delivery of Monoclonal Antibodies 675
Vikas K. Sharma, Hung-Wei Chih, Randall J. Mrsny, and Ann L. Daugherty
31. Therapeutic Antibodies in Clinical Use and Leading Clinical Candidates 711
Ningyan Zhang, Brent R. Williams, Ping Lu, Zhiqiang An, and Chen-Ni Chin
32. Follow-On Protein Products: What, Where, When, How? 763
Brent R. Williams and William R. Strohl
33. Monomeric Fc Fusion Molecules 779
Jennifer A. Dumont, Susan C. Low, Robert T. Peters, and Alan J. Bitonti
34. Radioimmunotherapy: Current Status and Future Directions 797
Neeta Pandit-Taskar and Chaitanya R. Divgi
35. Antibody-Drug Conjugate Therapy 821
Stephen C. Alley, Dennis Benjamin, and Che-Leung Law
ABBREVIATIONS 857
INDEX 865