Therapeutics of Parkinson's Disease and Other Movement Disorders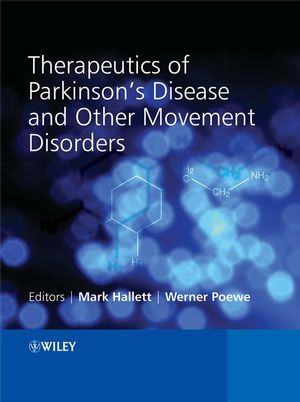 Therapeutics of Parkinson's Disease and Other Movement Disorders
ISBN: 978-0-470-06648-5 November 2008 512 Pages
Description
Provides a comprehensive update on therapies for Parkinson's disease and other movement disorders
Describes the basic mechanisms of neurodegeneration, pharmacologic interventions for motor and non-motor symptoms, and surgical management
Features summary tables and algorithms that serve as a quick reference guide for practical treatment decisions
The expert guidance of recognised authorities will enable readers of this book to plan their patients' care with greater confidence

Cannot be combined with any other offers.
Original Price:$501.95
Purchased together:$376.46
save $125.49
Table of contents
Preface.
Contributors.
PART I PARKINSON'S DISEASE AND PARKINSONISM.
1 The Etiopathogenesis of Parkinson's Disease: Basic Mechanisms of Neurodegeneration (C. Warren Olanow and Kevin McNaught).
2 Physiology of Parkinson's Disease (Shlomo Elias, Zvi Israel and Hagai Bergman).
3 Pharmacology of Parkinson's Disease (Jonathan M. Brotchie).
4 The Treatment of Early Parkinson's Disease (Olivier Rascol and Regina Katzenschlager).
5 Treatment of Motor Complications in Advanced Parkinson's Disease (Susan H. Fox and Anthony E. Lang).
6 Managing the Non-Motor Symptoms of Parkinson's Disease (Werner Poewe and Klaus Seppi).
7 Surgery for Parkinson's Disease (Jens Volkmann).
8 Future Cell- and Gene-Based Therapies for Parkinson's Disease (Tomas Bjorklund, Asuka Morizane, Deniz Kirik and Patrik Brundin).
9 Parkinson-Plus Disorders (Martin Kollensperger and Gregor K. Wenning).
PART II TREMOR DISORDERS.
10 Essential Tremor (Rodger J. Elble).
11 Other Tremor Disorders (Gunther Deuschl).
PART III DYSTONIA, CRAMPS, AND SPASMS.
12 Pathophysiology of Dystonia (Mark Hallett).
13 General Management Approach to Dystonia (Cynthia L. Comella).
14 Botulinum Toxin for Treatment of Dystonia (Dirk Dressler).
15 Surgical Treatments of Dystonia (Christopher Kenney and Joseph Jankovic).
16 Wilson's Disease (George J. Brewer).
17 Cramps and Spasms (Christine D. Esper, Pratibha G. Aia, Leslie J. Cloud and Stewart A. Factor).
18 Stiff Person Syndrome (Philip D. Thompson and Hans-Michael Meinck).
PART IV CHOREA, TICS AND OTHER MOVEMENT DISORDERS.
19 Huntington's Disease (Kevin M. Biglan and Ira Shoulson).
20 Chorea (Francisco Cardoso).
21 Treatment of Tics and Tourette Syndrome (Harvey S. Singer and Erika L.F. Hedderick).
22 Therapeutics of Paroxysmal Dyskinesias (Shyamal H. Mehta and Kapil D. Sethi).
23 Treatment of Miscellaneous Disorders (Marie Vidailhet, Emmanuel Roze and David Grabli).
24 Myoclonus (Shu-Ching Hu, Steven J. Frucht and Hiroshi Shibasaki).
PART V DRUG-INDUCED MOVEMENT DISORDERS.
25 Neuroleptic-Induced Movement Disorders (S. Elizabeth Zauber and Christopher G. Goetz).
26 Other Drug-Induced Dyskinesias (Oscar S. Gershanik).
PART VI ATAXIA AND DISORDERS OF GAIT AND BALANCE.
27 Ataxia (Thomas Klockgether).
28 Treatment of Gait and Balance Disorders (Bastiaan R. Bloem, Alexander C. Geurts, S. Hassin-Baer and Nir Giladi).
PART VII RESTLESS LEGS SYNDROME.
29 The Restless Legs Syndrome (Richard P. Allen and Birgit Hogl).
PART VIII PEDIATRIC MOVEMENT DISORDERS.
30 Pediatric Movement Disorders (Jonathan W. Mink).
PART IX PSYCHOGENIC MOVEMENT DISORDERS.
31 Psychogenic Movement Disorders (Elizabeth Peckham and Mark Hallett).
Index.
Reviews
"This book can be strongly recommended and is an asset to libraries of both movement disorder specialists and general neurologists. Its logical structure, linking therapy with underlying pathophysiology, means that it will remain a useful reference even as new therapies inevitably emerge." (The Lancet Neurology, July 2009)