Therapies and Rehabilitation in Down Syndrome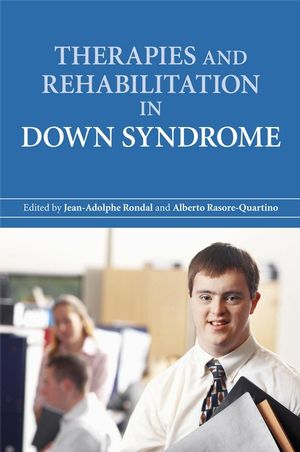 Therapies and Rehabilitation in Down Syndrome
ISBN: 978-0-470-31997-0 April 2007 228 Pages
Description
Therapies and Rehabilitation in Down Syndrome covers the entire lifespan of a DS patient, from infancy to 60 years and beyond, focusing not simply on identifying problems, but providing a detailed look at major therapeutic approaches. Discussion includes future genetic therapy, questions of quality of life, hormone and other therapies for medical problems, prevention and treatment of normal and pathological aging, as well as psychomotoric rehabilitation. This is an important book not only for scientists concerned with various facets of DS, but practitioners looking for guidelines for therapies and clinical application of research findings.
Preface.
Authors' Affiliations.
Introduction (J-A. Rondal, Liège, and A. Rasore Quartino, Genoa).
1 Perspectives on Gene-based Therapies (J-M. Delabar, Paris).
2 The Biological Bases of Pharmacological Therapies in Down Syndrome (M. Pritchard, Clayton, Victoria and I. Kola, Rahway, NJ).
3 Carbon Metabolism, Immunology and Growth Hormone (C. Romano, Troina, Sicily).
4 Medical Therapies in the Lifespan (A. Rasore Quartino, Genoa).
5 Language Rehabilitation (J-A. Rondal, Liège).
6 Cognitive Rehabilitation (G. Mahoney, Cleveland, OH).
7 Psychomotor Rehabilitation in Down Syndrome (G. M. Guazzo, Ottaviano).
8 Families and Services (S. Soresi and L. Ferrari, Padua).
9 School Inclusion: The Italian Model (L. Cottini, Udine, Friuli, and L. Nota, Padua).
10 Mainstream or Special Education for Teenagers with Down Syndrome (S. Buckley, G. Bird, B. Sacks, and T. Archer, Portsmouth).
11 Professional Inclusion as Global Therapy for the Individual with Down Syndrome (J. Perera, Palma de Mallorca).
12 Quality of Life (C. Baccichetti, Padua).
Conclusions (J-A. Rondal, Liège, and A. Rasore Quartino, Genoa).
Index.