Therapy Outcome Measures for Rehabilitation Professionals: Speech and Language Therapy, Physiotherapy, Occupational Therapy, 2nd Edition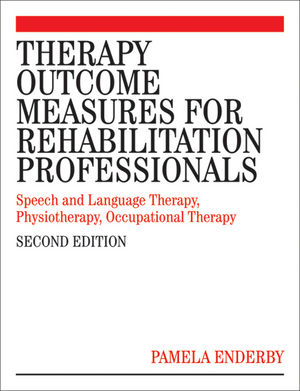 Therapy Outcome Measures for Rehabilitation Professionals: Speech and Language Therapy, Physiotherapy, Occupational Therapy, 2nd Edition
ISBN: 978-1-118-69981-2
May 2013
160 pages
Description
Previously published as two separate books for Speech and Language Therapists and for Physiotherapists, Occupational Therapists and Rehabilitation Nursing, this book has now been updated and expanded and combines the two first editions into one. This fits in with the increased amount of team working in rehabilitation, both in hospital and community settings. The book assists with the practical implementation of gathering outcome data on patient/clients receiving treatment. Over the last decade there has been a growing awareness of the importance of being able to gather information that could assist in identifying specific gains related to treatment programmes. This should not only help to identify areas for resource change, but also enable health care professionals to monitor the effectiveness of their treatments with individual clients.
Section 1 – Theoretical underpinning & testing.
Introduction.
World Health Organisation Classification.
INTERNATIONAL CLASSIFICATION OF FUNCTIONING.
Development of the TOM.
Validity.
Reliability.
Benchmarking.
References.
Section 2 – Using the TOM.
How to check the reliability of your team.
Introducing an outcome measure to the workplace.
Frequently Asked Questions.
Training to use the TOM.
TOM Scales.
TOM data sheets.
User Involvement.
The Outcomes TOM Computer System.
Section 3 – Scales and Data forms.
Appendices.
APPENDIX I Therapy Outcome Measures Data Collection Sheet.
APPENDIX II  Example Of Completed Data Sheet.
APPENDIX III Therapy Outcome Measures Data Form Guidance Notes.
APPENDIX IV  Therapy Outcome Measures Check List.
APPENDIX V Learning Prompt Sheet.
APPENDIX VI    Tom Core Scale.
APPENDIX VII Therapy Outcome Measures Adapted Scales.
1 CHILD SPEECH LANGUAGE IMPAIRMENT.
2  PHONOLOGICAL DISORDER.
3  DYSARTHRIA.
4  DYSFLUENCY.
5  DYSPHAGIA.
6   DYSPHASIA/ APHASIA.
7  DYSPHONIA.
8  HEARING THERAPY/AURAL REHABILITATION.
9  LARYNGECTOMY.
10  LEARNING DISABILITY - Communication.
11  DYspraxia - Children With Developmental Co-ordination Difficulties.
12  CEREBRAL PALSY.
13  COGNITION.
14   HEAD INJURY.
15  STROKE.
16  CARDIAC REHABILITATION.
17  NEUROLOGICAL DISORDERS (including Progressive Neurological Disorders).
18  COMPLEX AND MULTIPLE DIFFICULTY.
19  MULTIFACTORIAL CONDITIONS.
20  MUSCULO-SKELETAL.
21  RESPIRATORY CARE (COPD).
22  INCONTINENCE.
23  WOUND CARE.
24  MENTAL HEALTH.
25  MENTAL HEALTH - ANXIETY.
26  SCHIZOPHRENIA.
LARYNGECTOMY.
HEARING THERAPY/ AURAL REHABILITATION.
DYSPHONIA.
APPENDIX VIII – Adapted TOM Scales in Development.
AUGMENTATIVE COMMUNICATION.
COMMUNICATION EFFECTIVENESS.
APPENDIX IX - Classification of Disorders – ICD-10.
"… a useful resource for any speech and language therapy or multidisciplinary team bookshelf." (Speech & language Therapy In Practice, Autumn 2007)