Therapy and Beyond: Counselling Psychology Contributions to Therapeutic and Social Issues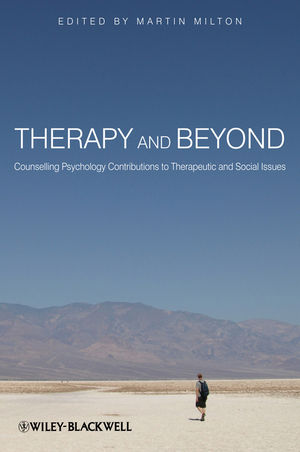 Therapy and Beyond: Counselling Psychology Contributions to Therapeutic and Social Issues
ISBN: 978-0-470-66727-9 December 2010 352 Pages
Description
Therapy and Beyond: Counselling Psychology Contributions to Therapeutic and Social Issues
presents an overview of the origins, current practices, and potential future of the discipline of counselling psychology. 
Presents an up-to-date review of the knowledge base behind the discipline of counselling psychology that addresses the notion of human wellbeing and critiques the concept of 'psychopathology'
Includes an assessment of the contributions that counselling psychology makes to understanding people as individuals, in their working lives, and in wider social domains
Offers an overview of counselling psychology's contributions beyond the consulting room, including practices in the domain of spirituality, the arts and creative media, and the environmental movement
Critiques contemporary challenges facing research as well as the role that research methods have in responding to questions about humanity and individual experience
Table of contents
Notes on Contributors.
Foreword.
Acknowledgements.
Introduction: Therapy and Beyond: Counseling Psychology Contributions to Therapeutic and Social Issues.
Section 1: Fundamentals of Counseling Psychology.
1 Philosophical Pluralism: Navigating the Sea of Diversity in Psychotherapeutic and Counseling Psychology Practice (Donal McAteer).
2 Existential-phenomenological Contributions to Counseling Psychology's Relational Framework (Elena Manafi).
3 Counseling Psychology and Research: Revisiting the Relationship in the Light of Our 'Mission' (Deborah Rafalin).
4 Understanding Human Distress: Moving beyond the Concept of 'Psychopathology' (Martin Milton, Mark Craven and Adrian Coyle).
5 Being with Humans: An Evolutionary Framework for the Therapeutic Relationship (Frances Gillies).
6 Ethics: The Fundamental Dimension of Counseling Psychology (Camilla Olsen).
Section 2: Models of Practice.
7 Different Theoretical Differences and Contextual Influences (Riccardo Draghi-Lorenz).
8 Humanistic Contributions to Pluralistic Practice (Heidi Ashley).
9 Psychodynamic Contributions to Pluralistic Practice (Debora Diamond).
10 Cognitive-behavioural Contributions to Pluralistic Practice: Reflections on an Issue of Some Contention (Terry Boucher).
11 Amor Fati: Existential Contributions to Pluralistic Practice (Elena Manafi).
Section 3: Counseling Psychology and the Wider World.
12 The Counseling Psychologist Working in a Pain Context (Natalie Hession).
13 Working with Sport and Exercise Psychologists: A Winning Combination? (Jill Owen).
14 The 'R' Word (Joanna Lofthouse).
15 Counseling Psychology Contributions to Understanding Sexuality (Colin Hicks).
16 Counseling Psychology Contributions to Religion and Spirituality (Adrian Coyle).
17 Counseling Psychology and the Media: The Highs and Lows (Lucy Atcheson).
18 Coming Home to Roost: Counseling Psychology and the Natural World (Martin Milton).
Epilogue: And Finally… .
Index.