There Goes the Bride: Making Up Your Mind, Calling it Off and Moving On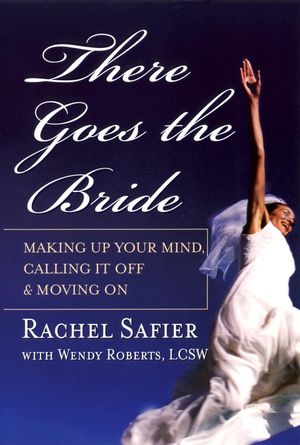 There Goes the Bride: Making Up Your Mind, Calling it Off and Moving On
ISBN: 978-0-787-97179-3 November 2003 Jossey-Bass 304 Pages
Description
There Goes the Bride is your personal guide to calling off a wedding— maybe your own! It walks the reader through the reasons, logistics, and emotions associated with breaking an engagement and provides down-to-earth advice, support, and encouragement from women who have been there. Rachel Safier— the widely recognized expert on the topics of cold feet and broken engagements— addresses all your concerns, including figuring out if it's more than just cold feet, dealing with friends and family who don't understand, giving back the ring, and more. Filled with stories from sixty-two 'almost brides' from twenty-five. states and four countries who've been through this difficult process themselves, There Goes the Bride offers comfort, inspiration, practical advice, some tears, and quite a few laughs.
Table of contents
Preface.
Acknowledgments.
Meet the Almost Brides.
PART 1: Making Up Your Mind.
Chapter 1: Is This Just Cold Feet?
Chapter 2: Premarital Resources.
PART 2: Calling It Off.
Chapter 3: How We Called It Off.
Chapter 4: Saying It Out Loud.
Chapter 5: Getting Your Money Back (and Dealing with the Ring).
Chapter 6: Why Marry in the First Place?
PART 3: Moving On.
Chapter 7: Finding Comfort, Finding Strength.
Chapter 8: Is It Grief When I Wish He Were Dead? Understanding Grief, Anger, and All the Other Emotions.
Chapter 9: Getting More Help: When to See Your Doctor or a Therapist.
Chapter 10: New Beginnings.
Epilogue.
RESOURCES.
Premarital Counseling.
Find Help Fast.
Breakup Movies.
Songs to Sing at the Top of Your Lungs.
Sayings to Get You Through the Day.
The Almost Brides.
The Almost Brides' Survey.
Notes.
The Authors.
Reviews
"...has become surprisingly successful in the States because, perhaps because it is the first to tackle the topic..." (The Glasgow Herald, 22 December 2003)