Thermodynamics of Biochemical Reactions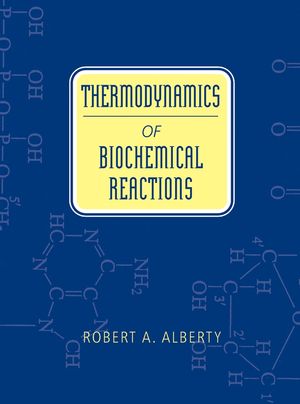 Thermodynamics of Biochemical Reactions
ISBN: 978-0-471-62355-7 January 2005 408 Pages
Description
Thermodynamics of Biochemical Reactions emphasizes the fundamental equations of thermodynamics and the application of these equations to systems of biochemical reactions. This emphasis leads to new thermodynamic potentials that provide criteria for spontaneous change and equilibrium under the conditions in a living cell.
Preface.
Chapter 1. Introduction to Apparent Equilibrium Constants.
Chapter 2. Structure of Thermodynamics.
Chapter 3. Chemical Equilibrium in Aqueous Solutions.
Chapter 4. Thermodynamics of Biochemical Reactions at Specified pH.
Chapter 5. Matrices in Chemical and Biochemical Thermodynamics.
Chapter 6. Systems of Biochemical Reactions.
Chapter 7. Thermodynamics of Binding of the Ligands by Proteins.
Chapter 8. Phase Equilibrium in Aqueous Systems.
Chapter 9. Oxidation-Reduction Reactions.
Chapter 10. Calorimetry of Biochemical Reactions.
Chapter 11. Use of Semigrand Partition Functions.
Glossary.
References.
"Through the writing of his new book, Professor Alberty has performed a great service to future textbook authors and to their readers, as well as to the biochemical community in general." (
Biochemistry and Molecular Education
, Nov/Dec 2003)
"...a useful learning device...through the writing of his new book, Professor Alberty has performed a great service to future textbook authors and their readers, as well as to the biochemical community in general." (Biochemistry and Molecular Biology Education,Vol. 31, No. 6)
"...this book will prove useful for students and working biochemists...highly recommended..." (Choice, September 2003)
"...emphasizes the application of the fundamental equations of thermodynamics to systems of enzyme-catalyzed reactions making up the metabolism of living organisms." (Pharmaceutical Research, Vol. 20, No. 9, September 2003)
"...written by the most experienced authority in this field...well-written and -organized, and nicely produced..." (Angewandte Chemie International Edition, Vol 42(37), 2003)
"...the authors are to be congratulated on producing an updated, valuable and comprehensive review of the field..." (ChemPhysChem, Vol 5, 2004)
Detailed Mathematica solutions to are provided within the text, enabling self-testing for students as well as providing helpful assignment frameworks for instructors.
World-class author