Thermodynamics of Materials, Volume 1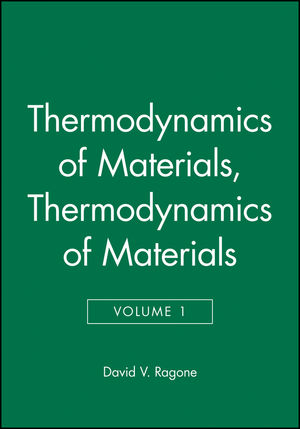 Thermodynamics of Materials, Volume 1
ISBN: 978-0-471-30885-0 October 1994 336 Pages
Description
In-depth reference for solid material thermodynamics
Thermodynamics of Materials provides a comprehensive reference for chemical engineers and others whose work involves material science. Volume 1 covers the statistical and classical thermodynamics of solids, including enthalpy, entropy, energy exchange, and more. In-depth examination of property relationships includes chemical potentials, heat capacity, compressibility, magnetism, and others, while further exploration of equilibrium states and electrochemistry provide the essential information necessary to work with solid materials in theoretical and practical applications. Extensive appendices provide essential formulas and reference lists for current, volume, pressure, energy, and more.
First Law.

Second Law.

Property Relationships.

Equilibrium.

Chemical Equilibrium.

Electrochemistry.

Solutions.

Phase Rule.

Phase Diagrams.

Statistical Thermodynamics.

Appendix.

Index.