These Three are One: The Practice of Trinitarian Theology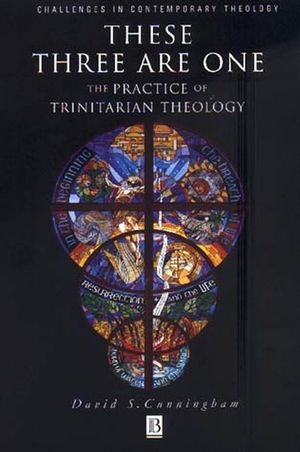 These Three are One: The Practice of Trinitarian Theology
ISBN: 978-1-557-86963-0 January 1998 Wiley-Blackwell 388 Pages
Download Product Flyer
Download Product Flyer
Download Product Flyer is to download PDF in new tab. This is a dummy description. Download Product Flyer is to download PDF in new tab. This is a dummy description. Download Product Flyer is to download PDF in new tab. This is a dummy description. Download Product Flyer is to download PDF in new tab. This is a dummy description.
Description
The doctrine of the Trinity has recently been rescued from relative obscurity in Christian theology, but its profound implications have not yet been fully realized.
Table of contents
Preface.
Introduction: Practice.
Part I: Source: Trinitarian Beliefs:.
1. Positioning.
2. Producing.
3. Paralleling.
Part II: Wellspring: Trinitarian Virtues:.
4. Polyphony.
5. Participation.
6. Particularity.
Part III: Living Water: Trinitarian Practices:.
7. Pacemaking.
8. Pluralizing.
9. Persuading. Epilogue: Provisionality.
Appendix 1: Recent Works in Trinitarian Theology.
Appendix 2: Glossary of Foreign Words and Phrases.
Appendix 3: Liturgical Resources.
Reviews
"There is much to commend in this volume, and not least in Cunningham's clear passion to make a doctrine, which has so often been a by-word for mystification, make a difference."
David Moss, St Stephens House, Oxford
"David Cunningham has written a really remarkable book, combining the most acute historical and conceptual analysis with reflections on ethics, liturgy, literature and much besides. It is a wonderful illustration of how the doctrinal tradition of Christianity can shape a whole perception of the moral and imaginative world." Rowan Williams, Bishop of Monmouth

"One of the most accessible books on the trinity in recent memory. Both scholars and the educated public have something to learn from Cunningham's ability to stir both mind and heart on issues of central significance to the Christian life." Kathryn Tanner, University of Chicago

"Sparks everywhere. Little holy fires and an occasional shrine-burner. Cunningham frames the questions in rhetoric and literary theory as well as philosophy and theological study and places them within the Church that is in the world. Trinity enlivens Christian practice. The result is a flashing insight, capable of keeping students awake. My classes would use it whether in seminary or congregation." Frederick W Norris, Emmanuel School of Religion

"Cunningham's These Three Are One offers a constructive reinterpretation of the classical doctrine of the Trinity for our times, and one that is nothing less than a revision of the Christian life itself in the terms set by Trinitarian belief. Drawing on the insights of spirituality, philosophy, ethics and literature, the argument of this book makes an important contribution to Trinitarian theology and does so in a way that is as accessible as it is accomplished." John E. Thiel, Fairfield University

"This is a most unusual and interesting book. He laments that he (and we) lack theology of embodiment adequate to his purpose. Cunningham's exposition of classical doctrine is both fascinating and scholarly. He has done more than enough to persuade us that we need one." Michael P. Wilson Hessle

"The thesis rests on the practical application of Trinitarian theology rather than its theoretical integrity, and here Cunningham scores one hit after another. This is a book of rare insight." Dr Saxbee, Bishop of Ludlow

"Amoung the many books to have appeared recently on the Christian doctrine of the Trinity, this one is outstanding. I recommend it highly to students who want to understand the historical development of this central theme, and to become familiar with the most recent debates on the subject; but much more than this, I commend it to pastors who want to know why this doctrine is an immensely practical one, shaping the exercise of pastoral care and the whole nature of Christian communities. This well-written highly accessible study will open out Trinitarian perspectives on ethics, worship, literature, rhetoric and spirituality. It is a piece of truly imaginative theology." Paul Fiddes, Principal, RPC Oxford

"With this volume, David Cunningham offers a fresh and constructive reinterpretation of the doctrine of the Trinity. This work will establish Cunningham as a leader among a second generation of theologians involved in the renaissance of the Trinitarian theology.....For teachers seeking a book on the doctrine of the Trinity for upper-level, undergraduate theology classes or seminary classrooms, this work is highly recommended." Mark Medley, Simpsonville, KY

"This is a most unusual and interesting book. Cunningham's exposition of classical doctrine is both fascinating and scholarly." Michael P. Wilson, Theology

"The passion with which Cunningham presents his argument is to be applauded, as is his attention to the insensitivities that have often accompanied traditional Trinitarian claims." J. Alexander Sider, Duke University

"To readers who find theological treatises on the Trinity too dry, I can recommend [this] stimulating and original work by David S. Cunningham... the appeal of the book lies less in the detail than in the general argument which is imaginative and fascinating on the ways Trinitarian law has been received and its place in the lives of believers." Chronique de Théologie Trinitaire

"These Three Are One is to be heartily recommended for its theological creativity and its daring breadth of vision. Cunningham offers not just a doctrine of the Trinity but a dogmatics in outline - a Trinitarian anthropology, a theology of grace, and the rudiments of an ecclesiology with a theological ethics to boot. At a time when there are many simplistic calls to practice Christian doctrine, Cunningham's book is a welcome reminder of the complexities and the rich possibilities in enacting and embodying Trinitarian doctrine." Journal of Religion
Features
Includes a general overview of the current 'state of the question' in contemporary trinitarian theology.

Provides an accessible yet detailed account of trinitarian doctrine, including the classical descriptions of God's processions, relations and missions.

Proposes new analogies and new terminology for a number of traditional trinitarian concepts, while offering a critique of monolithic accounts of any single 'name' of God.