Thin Film Solar Cells: Fabrication, Characterization and Applications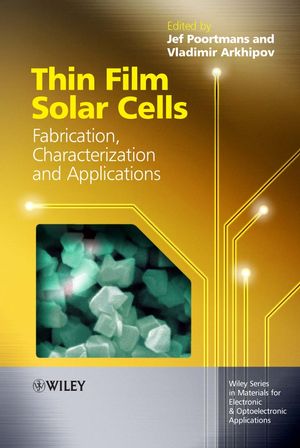 Thin Film Solar Cells: Fabrication, Characterization and Applications
ISBN: 978-0-470-09127-2 October 2006 502 Pages
Description
Thin-film solar cells are either emerging or about to emerge from the research laboratory to become commercially available devices finding practical various applications. Currently no textbook outlining the basic theoretical background, methods of fabrication and applications currently exist. Thus, this book aims to present for the first time an in-depth overview of this topic covering a broad range of thin-film solar cell technologies including both organic and inorganic materials, presented in a systematic fashion, by the scientific leaders in the respective domains. It covers a broad range of related topics, from physical principles to design, fabrication, characterization, and applications of novel photovoltaic devices.
Table of contents
Series Preface.
Preface.
1. Epitaxial thin-film crystalline Si solar cells on low-cost Si carriers (Jef Poortmans).
2.Crystalline Silicon Thin-Film Solar Cells on Foreign Substrates by High-Temperature Deposition and Recrystallization (Stefan Reber and Thomas Kieliba).
3. Thin-film polycrystalline Si solar cells (Guy Beaucarne and Abdellilah Slaoui).
4. Advances in microcrystalline silicon solar cell technologies (Evelyne Vallat-Sauvain, Arvind Shah and Julien Bailat).
5. Advanced Amorphous Silicon Solar Cell Technologies (Miro Zeman).
6. Chalcopyrite Based Solar Cells (Martha Ch. Lux-Steiner).
7. CdTe Thin Film Solar Cells: Characterization, Fabrication and Modelling (Marc Burgelman).
8.Charge carrier photogeneration in doped and blended organicSemiconductors (V. I. Arkhipov and H. Bässler).
9. Nanocrystalline Injection Solar Cells (Michael Grätzel).
10. Charge Transport and Recombination in Donor-Acceptor Bulk Heterojunction Solar Cells (A. J. Mozer and N. S. Sariciftci).
11. The Terawatt Challenge for Thin Film PV (Ken Zweibel).