Think Bigger: And 39 Other Winning Strategies from Successful Entrepreneurs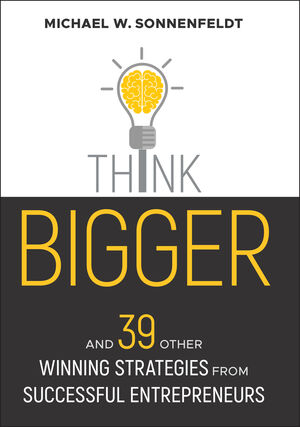 Think Bigger: And 39 Other Winning Strategies from Successful Entrepreneurs
ISBN: 978-1-119-42632-5 August 2017 240 Pages
Download Product Flyer
Download Product Flyer
Download Product Flyer is to download PDF in new tab. This is a dummy description. Download Product Flyer is to download PDF in new tab. This is a dummy description. Download Product Flyer is to download PDF in new tab. This is a dummy description. Download Product Flyer is to download PDF in new tab. This is a dummy description.
Description
What does it take to succeed today both personally and professionally?
In looking for answers, one obvious place to start would be to talk to self-made men and women who themselves are successful. That's exactly what Michael W. Sonnenfeldt—an accomplished entrepreneur—has done here in this ground-breaking book.
Drawing on the wisdom, insight and experience of members of TIGER 21 (The Investment Group for Enhanced Results in the 21st Century), and supplementing that with additional research and interviews, Sonnenfeldt offers real-world guidance and often counter-intuitive advice and conclusions.
Among the things you'll learn are:
Why grit and focus trump intelligence just about every time.
Why having—and listening to— a wise mentor will create shortcuts to getting more done.
What you need to do to avoid getting in your own way. And why.
'Shirtsleeves to shirtsleeves in three generations' can be avoided by taking some simple, commonsense steps.
Think BIGGER will inspire you, no matter where you are in your business career. It will also show you that the skills you use to grow wealth can be applied to making the world a better place.
Your success can benefit others.
Michael W. Sonnenfeldt is the founder and chairman of TIGER 21, the premier peer-to-peer learning network for high-net-worth first generation wealth creators in North America and London. He is an accomplished serial entrepreneur, philanthropist and most excited that all of his proceeds from this book will support the TIGER 21 Foundation for young entrepreneurs.
Table of contents
Acknowledgments
Introduction
Stage 1 Self-Assessment
Lesson 1 Know Thyself!
Lesson 2 Self-Control Beats Passion.
Lesson 3 Be Wildly Optimistic—Delusional, Even.
Lesson 4 Let Others Underestimate You.
Lesson 5 Grit Beats IQ—Most of the Time.
Lesson 6 Experience at a First-Rate Company Is Really Valuable.
Lesson 7 Your Disability Can Be an Advantage.
Lesson 8 Your Significant Other Must Enjoy Roller Coasters.
Stage 2 Team Building
Lesson 9 You're Never Too Smart—or Too Old—for a Mentor.
Lesson 10 Mentors Are Available for the Price of Asking.
Lesson 11 The Right Partner Can Multiply Your Potential.
Lesson 12 Know When to Be Nice.
Lesson 13 Hire for the Good. The Bad Comes at No Extra Expense.
Lesson 14 Surround Yourself with People Who Are Smarter Than You.
Lesson 15 Diversity Makes You Smarter.
Stage 3 Risk Management
Lesson 16 Risk Is in the Eye of the Beholder.
Lesson 17 Approach Risk Like a Farmer.
Lesson 18 Identify Your Blind Spots with a Periodic Portfolio Defense.
Stage 4 Growing Your Business the Smart Way
Lesson 19 Entrepreneurship Is Rarely about Just Making Money.
Lesson 20 Hone Three Different Kinds of Focus.
Lesson 21 Curiosity Fuels Creativity.
Lesson 22 Think Bigger.
Lesson 23 Think Twice Before Investing with Friends and Family.
Lesson 24 Don't Overvalue Your Company.
Lesson 25 Live Below Your Means.
Lesson 26 Make Failure A Key Part Of Success, and Don't Let Success Blind You To Even Bigger Opportunities.
Lesson 27 Don't Keep Your Family in the Dark.
Lesson 28 Hire Your Kids with Care.
Lesson 29 Take a Lot of Vacations.
Stage 5 Protecting Your Wealth
Lesson 30 Entrepreneurial Skills Can Limit Investing Success.
Lesson 31 Get Financially Literate.
Lesson 32 If You're Not a Professional Investor, Be a Passive One.
Lesson 33 Diversify Prudently.
Lesson 34 Spend Less.
Lesson 35: Don't Give Your Kids Anything, but Be Willing to Invest Everything in Them.
Lesson 36 Consider Life Insurance.
Lesson 37 We Actually Live in an After-Tax World.
Stage 6 Making It MeaningfulLesson 38
Apply Your Skills to Solve Social Problems.
Lesson 39 Leverage Public/Private Support for Social Entrepreneurship.
Lesson 40 Seek Double Bottom-Line Returns.
Conclusion
About the Author
Index