Think Fast!: Accurate Decision-Making, Problem-Solving, and Planning in Minutes a Day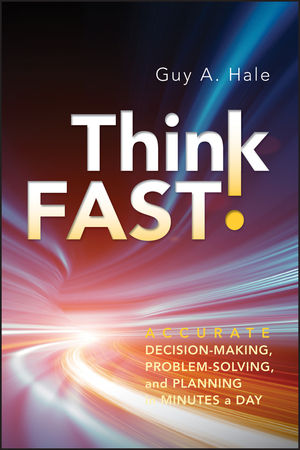 Think Fast!: Accurate Decision-Making, Problem-Solving, and Planning in Minutes a Day
ISBN: 978-1-118-00463-0
Jun 2011
192 pages
Description
Apply proven critical thinking processes and supercharge your business
Alamo Learning Systems has been providing Critical Thinking Skills (CTS), problem solving, decision-making, preventive action, and innovation training solutions to the corporate world for more than 35 years. They have been at the forefront of such movements in management as ISO 9000, Six Sigma, and Lean Manufacturing.
Now, in Think Fast!, these CTS experts bring you an up-to-the-minute toolbox of strategies and tactics you can use to optimize your business. This useful and easy-to-read guide looks at real-world consumer issues, giving you top-level skills to address a wide range of practical business, professional, and life problems.
Alamo's CTS solutions have been proven effective in major companies, including 200 of the current Fortune 500

Uses real examples from outside the business world to make problems and solutions widely accessible
At last, the Critical Thinking Skills that have guided some of the world's most successful companies are available to readers of this insightful guide. Start rethinking your business today, and take your business skills—and business results—to the next level.
Foreword.
Acknowledgments.
Introduction.
1. Good News.
2. Start Here: Stop.
3. The Dump List.
4. Simplify.
5. Pick the Right Road: Three Little Questions.
6. Recognize Your Progress.
7. Present: Decide Now!
8. Past: Find Out "Why?"
9. Future: Plan to Make It Happen.
10. Go Forward with Condence.
Bonus Chapter. Innovation: Create Something New.
Index.