Thinking Philosophically: An Introduction to Critical Reflection and Rational Dialogue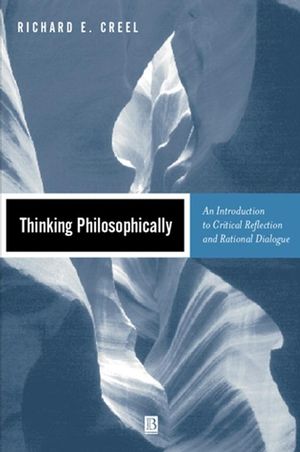 Thinking Philosophically: An Introduction to Critical Reflection and Rational Dialogue
ISBN: 978-0-631-21934-7 February 2001 Wiley-Blackwell 360 Pages
Description
Thinking Philosophically begins by helping the reader acquire a lively sense of what philosophy is, how it began, why it persists, and how it is related to other fields of study, especially science.
A Preface to Teachers.
Acknowledgments.
Philosophers in Thinking Philosophically.
Part I: Metaphilosophy:.
1. Introduction.
2. What is Philosophy?.
3. Why We Do Philosophy.
4. The Two Most Basic Causes of Philosophy.
5. Reason, Philosophy, and Other Disciplines.
6. Methods for Doing Philosophy.
7. Things Philosophers Do.
8. A Healthy Philosophical Attitude.
9. Alternatives to Philosophy.
Part II: Epistemology:.
Chapter 10: What is Truth?.
11. What is Knowledge?.
12. Logic - Understanding and Evaluating Arguments.
Part III: THEORY OF VALUE:.
13. Axiology and Happiness.
14. Ethics and Morality.
Part IV: Metaphysics:.
15. Freedom & Determinism.
16. The Mind/Body Problem.
17. Philosophical Theism.
18. Philosophical Materialism.
19. Metaphysical Idealism.
Part V: Parting Remarks:.
Index.
"The book is written in a clear, lively, and engaging style. The selection of topics is excellent, and the writing is done in such a way as to directly engage the beginning student in thinking about philosophical issues. Creel does an excellent job of relating basic philosophical issues to the concerns of everyday life. All in all, a superb job."
William Alston, Syracuse University
"It is clear the book is born of experience in teaching students. Creel addresses objections they are likely to have and engages them right where they are coming from. The book stays focused on 'big issues' in a way that matches up with students' expectations of what a philosophy class should be about." Trenton Merricks, Virginia Commonwealth University
"Thinking Philosophically will make a lively and distinctive addition to the introductory literature. The book will allow teachers and students alike to benefit from Richard Creel's own experience as an undergraduate teacher. Strongly recommended." Aaron Ridley, University of Southampton
Explores numerous issues and positions in the three most basic areas of Philosophy: Theory of Knowledge, Theory of Value, and Metaphysics.

Identifies and explains the Socratic Method, Running out the Permutations, and Rational Dialogue.

Teaches readers to think through philosophical problems.

Illuminating and interesting examples clarify subtle distinctions and difficult concepts in philosophy.