Thinking Sociologically, 2nd Edition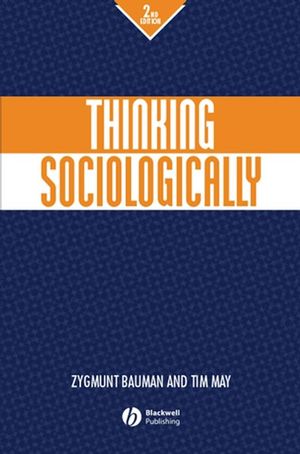 Thinking Sociologically, 2nd Edition
ISBN: 978-0-631-21928-6
Aug 2001
210 pages
Description
In this lucid, stimulating and original book, Zygmunt Bauman and Tim May explore the underlying assumptions and tacit expectations which structure our view of the world. The authors elucidate key concepts in sociology: for example, individualism versus community, and privilege versus deprivation. While charting a course through sociology's main concerns, Bauman and May also examine the applicability of sociology to everyday life.
Acknowledgements.
Preface to the Second Edition.
Introduction: The Discipline of Sociology.
Part I: Action, Identity and Understanding in Everyday Life.
1. Oneself with Others.
2. Viewing and Sustaining Our Lives.
3. The Bonds that Unite: Speaking of 'We'.
Part II: Living our Lives: Challenges, Choices and Constraints.
4. Decisions and Actions: Power, Choice and Moral Duty.
5. Making it Happen: Gifts, Exchange and Intimacy in Relationships.
6. Care of Our Selves: The Body, Health and Sexuality.
7. Time, Space and (Dis)Order.
8. Drawing Boundaries: Culture, Nature, State and Territory.
9. The Business in Everyday Life: Consumption, Technology and Lifestyles.
Part III: Looking Back and Looking Forward.
10. Thinking Sociologically.
Questions for Reflection and Further Reading.
Index.
""Sociological thinking is an adventure in self-understanding and moral reflection as well as systemic analysis.
Thinking Sociologically
is one of the best available introductions to this adventure.""
Craig Calhoun, New York University
""In the first edition of Thinking Sociologically, Bauman created a very personal yet inspiring view of Sociology as a liberating discipline. In the second edition, Bauman and collaborator Tim May have added new topics - Time and Space, Intimacy, and Risk - that have kept the visionary gleam of the original. In showing how Sociology can illuminate the rhythms of everyday life, this new edition will enthuse a new generation of students."" -- Nick Abercrombie, Lancaster University

""In this revised edition, Tim May has done a brilliant job of reworking Bauman's text while keeping the directness and verve of the original version."" -- William Outhwaite, University of Sussex

""Bauman and May have produced a new edition of a book whcih will serve us well for a second decade"" Community Care

""Highly recommended for undergraduate and general readers"". Choice

Of the Previous Edition:

""Bauman skilfully weaves in the contributions of major theorists and introduces important concepts of sociology as they become relevant."" Choice

<!--end-->""Bauman finds sociology exciting and subversive: so will his readers."" Laurie Taylor, University of York

""Bauman's commitment to sociology as a sophisticated, yet manageable, mode of thought stays with my students and lends depth to their reading of other texts in the course. I am impressed with the book. But my students' spontaneous enthusiasm for Thinking Sociologically is the highest praise of all."" Ira Cohen, Professor of Sociology, Rutgers University

""A wise, introduction to sociology."" Contemporary Sociology


Fully revised and expanded edition.

Includes two new essays on time and space and health and fitness.

Contains new coverage of contemporary issues such as intimacy, risk, globalization, organizations, and new technologies.





Includes improved pedagogical features such as chapter introductions, end of chapter summaries and detailed recommended reading lists.