Thirst: Fighting the Corporate Theft of Our Water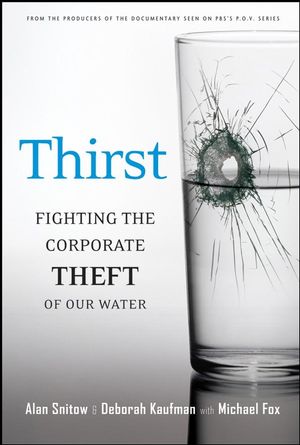 Thirst: Fighting the Corporate Theft of Our Water
ISBN: 978-0-787-98458-8 March 2007 Jossey-Bass 304 Pages
Description
Out of sight of most Americans, global corporations like Nestlé, Suez, and Veolia are rapidly buying up our local water sources—lakes, streams, and springs—and taking control of public water services. In their drive to privatize and commodify water, they have manipulated and bought politicians, clinched backroom deals, and subverted the democratic process by trying to deny citizens a voice in fundamental decisions about their most essential public resource.

The authors' PBS documentary Thirst showed how communities around the world are resisting the privatization and commodification of water. Thirst, the book, picks up where the documentary left off, revealing the emergence of controversial new water wars in the United States and showing how communities here are fighting this battle, often against companies headquartered overseas.

Read a review...http://www.sfgate.com/cgi-bin/article.cgi?f=/c/a/2007/03/18/RVGS9OHPKT1.DTL
Buy Both and Save 25%!
Original Price:$55.95
Purchased together:$41.96
save $13.99
Cannot be combined with any other offers.
Preface.
Acknowledgments.
1. Water: Commodity or Human Right?
Battles for Water in the West.
2. Hardball vs. the High Road.
Stockton, California.
3. Small-Town Surprise for a Corporate Water Giant.
Felton, California.
Scandals in the South.
4. The Price of Incompetence.
Atlanta, Georgia.
5. The Hundred-Year War.
Lexington, Kentucky.
New England Skirmishes.
6. Keeping the Companies at Bay.
Lee, Massachusetts.
7. Cooking the Numbers.
Holyoke, Massachusetts.
Corporate Target: The Great Lakes.
8. When Nestlé Comes.
Wisconsin Dells, Wisconsin.
9. To Quench a Thirst.
Mecosta County, Michigan.
10. Whose Water, Whose World Is It?
Notes.
Resources.
Index.
The Authors.
2008 Nautilus Book Awards Gold Winner in the category of Conscious Media/Journalism
"...an interesting read, well-written and thoroughly documented… completed by 50 pages of careful notes and references, helpful and informative." (World Business, March 2007)
Is water a human right or a commodity to be marketed for profit? Should water be run by local governments or by distant corporations? Why do we pay more for bottled water than for gasoline?
These are some of the tough-minded questions Alan Snitow and Deborah Kaufman first asked in their provocative and memorable 2004 documentary, also titled "Thirst."
In their new book, the authors investigate how the growing "water business" is trying to privatize water systems in cities scattered across the United States.
More often than not, local citizens don't even know their water is being sold. But when people do know what's happening, they form powerful coalitions, fueled by indignation and outrage. In the process, citizens rediscover some of the basic principles of democracy, namely, that they should have a voice in their government.
This is the cautionary tale the authors tell through their vivid descriptions of eight conflicts over water -- from Stockton to Atlanta, Ga.
Should we worry about these new water wars? Yes. Water is not only a limited resource; it is also necessary for biological survival.
"The current conflict between corporations and citizens movements to control this precious resource," they write, "will be decided in the years to come. The outcome of the conflict will surely be a measure of our democracy in the 21st Century."
They're right. See their film. Read this important book. Then decide if you agree that public control of water is essential for our health and the health of our democracy. (San Francisco Chronicle, Excerpts of a review by Ruth Rosen)