This I Believe: On Fatherhood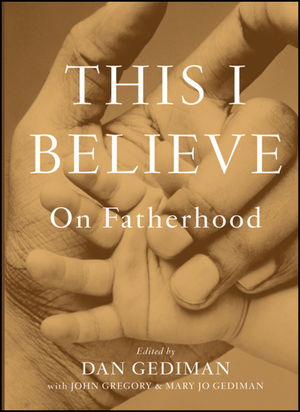 This I Believe: On Fatherhood
ISBN: 978-1-118-02557-4 March 2011 Jossey-Bass 208 Pages
Description
Compelling stories of fatherhood from the popular NPR radio show
From the popular radio series This I Believe comes this touching and thought-provoking compilation of original essays on one of the most fundamental of human relationships-fatherhood. It is a relationship filled with joy and heartbreak, love and anger, lessons learned, and opportunities missed.
The stories in this collection are engaging and meaningful. Some are reverential and loving; some are sad and clouded by yearning, loss, and regret: You'll read reflections from expectant and new dads, full of optimism, as well as from longtime parents who, through the distance of time, are able to reflect on their successes and failures as fathers.
We also hear from children (some young and some well into adulthood) writing about their fathers. They honestly and openly introduce us to the men who shaped them, sometimes in surprising ways. They talk about the fathers they want to emulate, the mistakes they hope to avoid repeating, and the wisdom they realized they've gained.
This I Believe: On Fatherhood offers a compelling portrait of the diverse range of experiences and beliefs related to the father-child relationship. With personal insights and inspiration, this collection makes a wonderful gift for long-time fathers, new fathers, and fathers-to-be.
Introduction.
Truth and the Santa Claus Moment (Corey Harbaugh).
The Last Harvest (Randi Perkins).
The Dads We Were Given (Kathy Wells McMenamin).
Forgiving My Dad (Bryan McGuire).
Appreciating the Moment (Jay Hasheider).
Whistling in the Light (T. A. Barron).
Lingering at the Doors (John Warley).
A Love Beyond Boundaries (Brian Schoeni).
Hunting Pennies (James Pfrehm).
A Mark in History (Rosita Choy).
Trimming (Amy Rowland).
A Father Is Born from Many Strangers (Michele Weldon).
The Cards Will Hear You (Eric Larson).
Finding a Different Way (Bob May).
Life Is Wonderfully Ridiculous (Claude Knobler).
Never Give Up (M. C. Hackett).
The Choice to Do It Over Again (Daniel Flanagan).
The Wonders of the Future (Scott Shackelford).
The Best Legacy I Can Leave (Doug Andrews).
To Be the Best Humans We Can Be (Tim Wilson).
Work Is a Blessing (Lieutenant General Russel Honoré).
Hands at Rest (John R. Corrigan).
The Myths of Manhood (Andrew Riutta).
Love with No Limits (Scott Zucker).
An Ordinary Adventure (David Lintvedt).
My Earthly Father (Margo Frazier).
The Give-and-Take of Grief (Michael Newland).
The Lawn Is Life (Greg Vessar).
The Bricks in the Wall Around My Heart (Judd Pillot).
The First Breath (Kaz Sussman).
Finding My Father in a Small World (Kate Debiec).
I Am Capable of More Than I Think I Am (Gregg Rogers).
Teacher (Nick Capo).
Five Dollars of Forgiveness (Daniel Plasman).
Nothing New Under the Sun (Lawrence Newton).
Respect Yourself (David Westwood).
Gardens and Their Power to Heal (Alison van Diggelen).
Embarrassing My Kids (Roger Mummert).
A Father's Lectures (Seth Chalmer).
Where the Soul of Man Never Dies (Tim Barnes).
Forgive the Rest (Julie Feeney).
His Difference Is His Strength (James Buchanan).
The Power of Fishing (Johnnie Barmore).
The Greatest Thing (Scott Koonce).
Big Thinking (Elizabeth Shen).
Transforming Fatherhood (Adam Kallish).
Keep the Tempo Steady (Claudette Sikora).
A Lesson from My Dad (Gregory Michael Arndt).
Living and Loving Life (Keith Wagner).
The Best Education in the World (Jeff Sloan).
What It Takes (Shelby Crowley).
With Brown Shoes to Match (Brian M. Wise).
Forever in Love (Greg Wees).
My Father, Christ (Whitney Alt).
Making Choices That Make Me Smile (Christopher Swiecki).
The Measure of a Man (Susan Cramer).
Little Acts of Goodness (Howard Miller).
Leaving Work to Gaze at Sunsets (Laurie Granieri).
A Stack of Rocks (Ron Woolley).
When Angels Miss (D. John Dyben).
Appendix: How to Write Your Own.
This I Believe Essay.
Acknowledgments.