This I Believe: On Love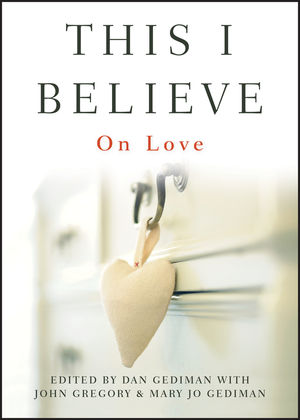 This I Believe: On Love
ISBN: 978-0-470-87268-0 November 2010 208 Pages
Description
Inspiring essays on love shared by men, women, and young people from all walks of life
In the 1950's, Edward R. Murrow's radio program, This I Believe, gave voice to the feelings and treasured beliefs of Americans around the country. Fifty years later, the popular update of the series, which now continues on Bob Edwards Weekend on public radio, explores the beliefs that people hold dear today. This book brings together essays on love from ordinary people far and wide whose sentiments and stories will surprise, inspire, and move you.
Includes extraordinary essays written by "ordinary" Americans on love in its many manifestations-from romantic love and love of family to love of place and love of animals
Paints a compelling portrait of the diverse range of beliefs and experiences related to what is perhaps the most powerful and complex of human emotions-love
Based on the popular This I Believe radio series and thisibelieve.org Web site
By turns funny and profound, yet always engaging, This I Believe: On Love is a perfect gift to give or to keep.
Table of contents
Introduction.
The Love I Choose (Jessica Mercer Zerr).
They Built a Family (Laura Chamberlain).
A New Kind of Love (Rachel Wegner).
In My Father's Tears (Lawrence Kessenich).
The Beauty of Aging (Debi Knight Kennedy).
The Gift of Being (Lorraine Kelly).
Gray Hairs and Wrinkles (Fabiola Piña).
Love Is Stronger Than Death (Opal Ruth Prater).
Come to My Table (Shannon Denney).
By Best Friend (Raymond Allinger).
Leave the Light On (Marianne Rogowski).
How we Love Our Enemies (David Waln).
What We Tried to Do (Louise V. Gray).
The Most Powerful Medicine (Ross Hays).
The Value of Your Life (Jenna Greer).
Hand-Knit Socks (Debra Bronow).
Deciding to Love Her (Amy Simmons Farber).
Love on Four Feet (Sarah Culp Searles).
A Walk in the Woods Together (Cindy Lollar).
Sam's Valentine (Kathy Heffernan).
To Dwell in Possibility (Patricia Bennett).
Duck Blind Lessons (James Johnson).
First Friend (Susan Senator).
Amazing Grace (Korinthia  Klein).
Love Lives Through Them All (Tanuj Bansal).
Brotherly Love (Katie Weiner).
Old Love (Jane R. Martin).
Pink Moments (Connie Spittler).
Love Like a Child (Mary Lineberger).
A Death He Freely Accepted (Greg Gatjanis).
The Blessings of Step (Janet Jayne).
Here's to you, Merrie (Jordyn Maeda).
God Knows About Sacrifice (Lynne Scott).
Love Is a Verb (Sarah Stadler).
The Friend That Makes Me Complete (Penny Hagin).
A Magical Impact (Jeremy Green).
Put on Your Heavy Coat (Ellen Graf).
God Is in Her Hand (John Samuel Tieman).
A Gift of Unique Beauty (Cynthia Chauhan).
Four Sisters in Life and Death (Elynne Chaplik-Aleskow).
My Family Tree (Brenda Huff).
"Staying Close" (Ginny Taylor).
Love on Aisle Three (David Wuescher).
Swing-shift Kisses (Scott Saalman).
The Courage to Let Go (Gale Workman).
All the Mothering You Do (Patrice Vecchione).
Life Is a Battle (Elliana Grace and Julie Chinitz).
Show and Tell (Ann Erik).
A Tender Lullaby (Lee Reeves).
The Yellow House (Julie M. Sellers).
A Powerful Act of Love (Susan Hall).
Pennies from Heaven (Reg Stark).
Who We Really Are Inside (Matthew Schmidt).
Creation Is the Creator (Vicki Watson).
The Power of Friendship (Nadia Henderson).
To Love the Person in Front of Me (Karla Gregen).
Love from Head to Toe (Lorena Templeton Querns).
Made by Hand (Mary Mrugalski).
A Dog's Life (Fred Flaxman).
Appendix: How to Write Your Own This I Believe Essay.
Acknowledgments.
Reviews
In these 60 short essays, men and women of all ages and backgrounds write about love: of a teacher, house, step family, the poor or needy, mountains, and even growing old. While "Love on Aisle Three" is about a small group that gathers round an adorable baby in a cart, several essays explore love not of a person or thing, but an activity like cooking or knitting. In "God Is In Her Hand," John Samuel Tieman writes, "Love is in the hand that crafts, sculpts, sews, caresses, soothes." The most moving pieces examine love tied to a difficult situation. In "The Courage to Let Go," Gale Workman's father, after taking care of her mother for months, finally allows himself to say goodbye. Originally started on Edward R. Murrow's 1950s radio show, this effort to get ordinary citizens to discuss their core values has produced essays that vary greatly in quality and suffer in this form from the absence of a human voice. Still, this anthology beautifully captures our need, and the sacrifices we make, for love. (Dec.) (Publishers Weekly, November 8, 2010)