This Land: A History of the United States, Volume 2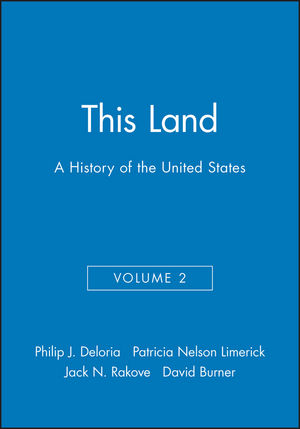 This Land: A History of the United States, Volume 2
ISBN: 978-1-881-08971-1
Aug 2003, Wiley-Blackwell
548 pages
Description
Designed for teachers and students of the United States history survey course who prefer a larger measure of social history content, along with all the vital materials in political, diplomatic, legal, and economic history.


This four-color text is written by four major American historians. Its dramatic, clear prose, aimed at beginning college students, tells the nation's story in a way they will both feel and reflect on. It is a full length, standard-sized textbook that provides a coherent narrative rich in relating history, accomplishing its goals in slightly under a thousand pages (both volumes) of highly readable text, not including the appendices and comprehensive index.


Accompanied by abundant ancillary materials: maps, charts, tables, and separate student workbook.
14. The Civil War.
15. Reconstructing the South.
16. Raiding the Continent.
17. The Search for New Frontiers.
18. Taming the Forces of Social Change.
19. Progressive Empire and Progressive Reform.
20. Of War, Money, Preachers, and Jazz.
21. Hitting Bottom and Coming Back Up.
22. World War II and Its Prelude.
23. Warm Hearths and a Cold War.
24. Politics Takes to the Streets.
25. Vietnam-The Longest War.
26. Testing the Reach of Power.
27. New Alignments and a New War.
28. The End of Nature?.
Appendix.
Index.