This is not a Diary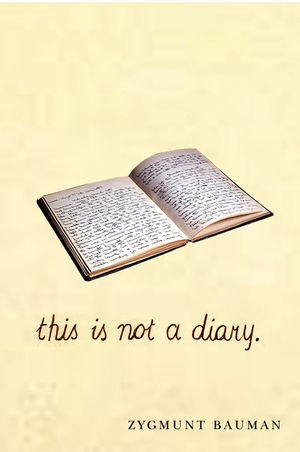 This is not a Diary
ISBN: 978-0-745-65569-7
Feb 2012, Polity
216 pages
Description
This is not a diary: while these observations were recorded in autumn 2010 and spring 2011 in the form of dated entries, they are not a personal reflection but an attempt to capture signs of our times in their movement - possibly at birth, at a stage when they are still barely perceptible, and in any case before they have matured into common, all too familiar forms, escaping our attention due to their banality. Some will perhaps settle in our daily life for a long time to come, others will fade and vanish before they would otherwise have a chance to be noted, recorded and explored in depth: in our fast-moving, protean and kaleidoscopic world, it is hardly possible to predict their future course and to decide in advance which of them will grow in volume and significance and which will prove to have been still-born. Whatever their fate, the author tried to take a leaf from William Blake's precept of seeing the universe in a grain of sand - and, having done so, alert us to what is or may be happening to our individual lives, forms of togetherness, shared prospects; to the ways we perceive and relate to each other, the forces that shape our life chances and itineraries; and to the ways we try to control, or at least influence, and sometimes even reform for the better, some or all those dimensions of our existence.

These timely meditations by one of the most perceptive social thinkers of our time will appeal to a wide range of readers.
CONTENTS
SEPTEMBER 2010
On the sense and senselessness of diary-keeping; On the usefulness of fighting windmills; On virtual eternity; On farming words; On superpower, superbroke; On averages; On multi-tasking; On the blind leading the impotent; On Gypsies and democracy; On fading trust and blooming arrogance; On the right to be angry
OCTOBER 2010
On the right to get richer; On many cultures, and one cover-up; On don't say you haven't been warned; On the quandaries of believing; On Cervantes, father of humanities; On one more war of attrition, A.D. 2010-?
NOVEMBER 2010
On why Americans see no light at the end of the tunnel
DECEMBER 2010
On the war to end wars; On hurting flies and killing people; Jerusalem vs. Athens revisited; On why students are restless again; On respect and scorn; On some (not all!) of my idiosyncrasies; On the new looks of inequality; On re-socializing the social; On the friends you have and friends you think you have; On the front pages and other pages; On (selected) quandaries; On whether "democracy" still means anything, and in case it does, what is it?
JANUARY 2011
On The Angel of History, reincarnated...; On finding consolation in unexpected places; On the growth: do we need it?; On sustainability: this time, of social democracy; On consumption getting richer and the planet poorer; On justice, and how to know it is there; On internet, anonymity and irresponsibility; On collateral damages and casualties of cuts; On one of many pages torn out from the history of democratic crusade; On immoral axes and moral axmen; On Berlusconi, and on Italy; On keeping him in by being kept out; On people in the streets
FEBRUARY 2011
On glocalization coming of age; On what to do with the young; On the not-for-anybody virtues; On blessings and curses of not-taking-sides; On human tsunami, and thereafter; On the bottoms beneath the bottoms; On being out inside, and inside but out; On miracles, and not quite miracles; On Facebook, intimacy, and extimacy; On building fortresses under siege; On American Dream: time for obituaries?
MARCH 2011
On H. G. Wells', and mine, last dream and testament
"If Bauman had posted the pieces of this book on the internet as he went along, it would have been the world's best blog. But I'm glad he didn't."
Steven Poole, The Guardian
"Bauman, like all the best teachers, encourages independent thinking and insists only that it is informed and above all critical ... Highly recommended."
Morning Star
This is an engaging new book from one of the most influential and widely read sociologists in the world today.
The book is presented in the form of diary entries written over a period of 6 months, but the entries are not autobiographical: rather, they are Bauman's reflections on the events taking place in the world between autumn 2010 and spring 2011.
He focuses on topical events like the crises of public sector debt in Greece, Ireland and elsewhere, the expulsion of the Roma by the French government, the uprisings in North Africa, etc., in each case interpreting these events and reflecting on their broader significance.
This book will appeal to a wide audience of general readers interested in current affairs.