Thoracic Endoscopy: Advances in Interventional Pulmonology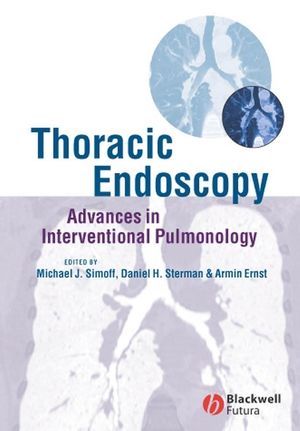 Thoracic Endoscopy: Advances in Interventional Pulmonology
ISBN: 978-0-470-75527-3 April 2008 Wiley-Blackwell 376 Pages
Description
Written by some of the world's leading practitioners - and pioneers - in the field,
Thoracic Endoscopy
is the first up-to-the-minute, expert reference for clinicians with a solid foundation in diagnostic bronchoscopy and chest medicine needing to extend their clinical expertise in response to two decades of rapid development.
Thoracic Endoscopy covers four key areas of practice:



advanced diagnostic bronchoscopy


the latest techniques for interventional bronchoscopy — including the traditional rigid bronchoscopy techniques, ablative instruments and stents — and a discussion of endobronchial lung reduction and gene therapy


a window to the pleura, covering the field of pleuroscopy and the advances in diagnosis and treatment


clinical problems and methodologies, and strategies for solving them using interventional techniques
Thoracic Endoscopy presents the only coherent guide to the full range of techniques and practice patterns, and is the essential reference for both experienced interventional pulmonologists and students beginning to practice in this rapidly-developing field.
Table of contents
Part I Advances in Diagnostic Bronchology.
1 Autofluorescence in the Detection of Lung Cancer.
(Michael J. Simoff).
2 New Technologies for the Endobronchial Assessment of the Pulmonary Tract.
(Mark E. Brezinski).
3 Endobronchial Ultrasound.
(Felix J.F. Herth & Heinrich D. Becker).
4 Advances in Diagnostic Bronchoscopy: Virtual Bronchoscopy and Advanced Airway Imaging.
(Rex C. Yung & Leo Patrick Lawler).
5 Medical Simulation: Current uses and Future Applications. (Joseph L. Tasto & Jonathan P. Balcombe).
6 Bronchoscopy and Computer Technology.
(Heinrich D. Becker).
Part II Advances in Therapeutic Bronchology.
7 Rigid Bronchoscopy.
(Jed A. Gorden & Douglas E.Wood).
8 Fire and Ice: Laser Bronchoscopy, Electrocautery and Cryotherapy.
(Michael A. Jantz & Gerard A. Silvestri).
9 Photodynamic Therapy for Endobronchial Tumors: Palliation and Definitive Therapy.
(David Ost).
10 Stenting of the Tracheobronchial Tree.
(Armin Ernst).
11 Transtracheal Oxygen and Percutaneous Tracheotomy.
(David Feller-Kopman).
12 Bronchoscopic Lung Volume Reduction.
(Edward P. Ingenito & LarryW. Tsai).
13 Endobronchial Gene Therapy.
(Robert J. Kruklitis & Daniel H. Sterman).
Part III Interventional Pleurology.
14 Thoracentesis, Percutaneous Needle Biopsy of Pleura, Small-bore Catheter Drainage: Does Size Really Matter?.
(Luis Miguel Seijo).
15 Medical Thoracoscopy.
(Sjaak A. Burgers).
16 Photodynamic Therapy in the Pleural Space.
(Paul Baas).
17 Intrapleural Therapy: from BCG to Therapeutic Genes.
(Andrew R. Haas & Daniel H. Sterman).
Part IV Case Discussions.
18 Management of Patients at Increased Risk for Lung Cancer.
(Boyd T. Hehn & Michael J. Simoff).
19 Staging of Bronchogenic Carcinoma: an Interventional Pulmonary Perspective.
(J. Francis Turner, Jr & Arthur D. del Rosario).
20 Management of Malignant Pleural effusions.
(Michael S. Machuzak, Ali I. Musani & Daniel H. Sterman).
21 Management of Spontaneous Pneumothorax.
(Michael H. Baumann).
22 Obstruction of the Central Airways: Evaluation and Management. (William Lunn).
23 Management of Massive Hemoptysis. (John Conforti).
24 Management of Tracheobronchomalacia.
(Kelly A. Carden & Armin Ernst).
Index.
What's New
The only comprehensive guide to the full range of new techniques and practice patterns for both experienced clinicians and students in this rapidly developing field


First up-to-date reference covering the full range of new techniques and clinical practice in this rapidly-developing field


Written by some of the world's leading practitioners and pioneers in the field


Covers advanced diagnostic bronchoscopy, the latest interventional techniques, discussions of endobronchial lung reduction and gene therapy, and advanced topics complete with illustrative cases and photographic illustrations