Thoughts and Utterances: The Pragmatics of Explicit Communication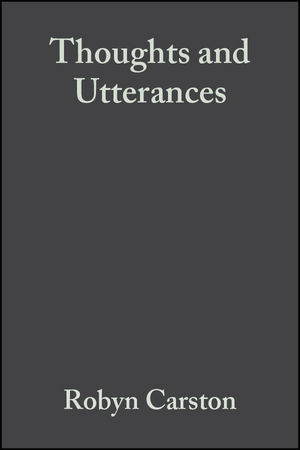 Thoughts and Utterances: The Pragmatics of Explicit Communication
ISBN: 978-0-470-75455-9
Apr 2008, Wiley-Blackwell
432 pages
Description
Thoughts and Utterances is the first sustained investigation of two distinctions which are fundamental to all theories of utterance understanding: the semantics/pragmatics distinction and the distinction between what is explicitly communicated and what is implicitly communicated.
Features the first sustained investigation of both the semantics/pragmatics distinction and the distinction between what is explicitly and implicitly communicated in speech.
Introduction.
1. Pragmatics and Linguistic Underdeterminacy:.
Saying and Meaning.
The Underdeterminacy Thesis.
Eternal Sentences and Effability.
Metarepresentation, Relevance and Pragmatic Inference.
Underdeterminacy, Truth Conditions and the Semantics/Pragmatics Distinction.
Radical Underdeterminacy and the Background.
Underdeterminacy of Thought?.
Summary.
2. The Explicit/Implicit Distinction:.
Semantics/Pragmatics Distinction.
Grice: Saying/Implicating.
Sperber and Wilson: Relevance-theoretic Distinctions.
Travis and Recanati: Enriched 'What is Said'.
Bach: What is Said/Impliciture/Implicature.
Pragmatic Meaning: Enrichment or Implicature?.
Postscript: Hidden Indexicals or 'Free Enrichment?.
Conclusion: From Generative Semantics to Pro-active Pragmatics.
3. The Pragmatics of 'And'-Conjunction:.
Preserving the Truth-functionality of 'And'.
A Relevance-based Pragmatics of Conjunction.
The Semantic Alternatives.
Cognitive Fundamentals: Causality and Explanation.
Relevance Relations and Units of Processing.
Processing Effort and Iconicity.
Residual Issues.
Conclusion: From Generalized Conversational Implicature.
4. The Pragmatics of Negation:.
Some Data and Some Distinctions.
Semantic Ambiguity Analyses.
Strong Pragmatic Analyses.
'Presupposition'-cancelling Negation and Metalinguistic Negation.
The Pragmatics of 'Presupposition'-Denial.
Conclusion: From Multiple Semantic Ambiguity to Univocal Semantics and Pragmatic Enrichment.
5. The Pragmatics of On-line Concept Construction:.
Encoded Concepts and Communicated Concepts.
A Symmetrical Account of Narrowing and Broadening.
Metaphor: Loose Use and Ad Hoc Concepts.
Word Meaning and Concepts.
Conclusion: The Long Road from Linguistically Encoded Meaning to the Thought(s) Explicitly Communicated.
Appendix 1: Relevance Theory Glossary.
Appendix 2: Gricean Conversational Principles.
References.
Index.
"This book serves to advance the status of pragmatics, as in addition to presenting a theory free from serious errors, it is also a good example of a methodologically sound book. I heavily applaud this volume - which places students on the right path and is also a rare example of scholarly eminence. I believe the author must have had many sleepless nights to finish it - now she can take her rest and enjoy the success and the praise she fully deserves."
Linguistics
"Challenges current philosophical approaches to pragmatics and makes a substantial contribution to cognitive pragmatic theories such as relevance theory." Moderna Sprak

"The book brings together a wealth of empirical observations and new analyses and is impressive in breadth and depth. It is also one of the most detailed and powerful expositions of relevance theory and enriches the framework in considerable ways." Lingua"This long-awaited treatise is the best case ever made for relevance theory, and a most stimulating piece of work on the semantics/pragmatics interface. I enjoyed it enormously." François Recanati, Institut Jean-Nicod

"You don't have to be a relevance theorist to appreciate Carston's challenge to influential Gricean views on the interaction of pragmatics with semantics. This book, with its breadth of coverage and depth of analysis, raises a good many questions and offers many good answers." Kent Bach, San Francisco State University

"Robyn Carston's combination of meticulous scholarship with deep insight has led her to cast new light on the vexed distinction between semantics and pragmatics, to provide new analyses of a range of problems in linguistics and the philosophy of language, and to illuminate the relation between language and thought more generally. This elegantly written and original work is the best book on pragmatics for a generation." Neil Smith, University College London

"The author directly tackles the by now central issue of the interface between semantics and pragmatics... and addresses such important theoretical problems, within all of pragmatics, as the distinction betwen explicit and implicit communication." Pragmatics

"As is usual with excellent books, Carston's book leads us to think further deeply and raises a good many questions... this book takes a resolutely cognitive viewpoint, sheds a new light on the semantics/pragmatics interaction and succeeds in elucidating the roles of language and inferences in communication. i strongly recommend this book not only to pragmatists, of course, but also to everyone who is interested in human communication." Akiko Yoshimura, Nara Women's University, Studies in English Literature


Features the first sustained investigation of both the semantics/pragmatics distinction and the distinction between what is explicitly and implicitly communicated in speech.