Three Dialogues on Knowledge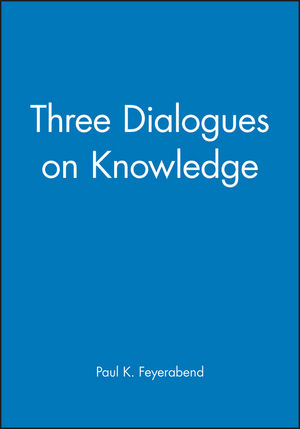 Three Dialogues on Knowledge
ISBN: 978-0-631-17918-4
Aug 1991, Wiley-Blackwell
176 pages
Description
The Socratic, or dialog, form is central to the history of philosophy and has been the discipline's canonical genre ever since. Paul Feyerabend's Three Dialogues on Knowledge resurrects the form to provide an astonishingly flexible and invigorating analysis of epistemological, ethical and metaphysical problems. He uses literary strategies - of irony, voice and distance - to make profoundly philosophical points about the epistemic, existential and political aspects of common sense and scientific knowledge. He writes about ancient and modern relativism; the authority of science; the ignorance of scientists; the nature of being; and true and false enlightenment.

Throughout Three Dialogues on Knowledge is provocative, controversial and inspiring. It is, unlike most current philosophical writing, written for readers with a keen sense of what matters and why.
First Dialogue (1990).
Second Dialogue (1976).
Third Dialogue (1989).
Postscript.
"An audacious thinker, a brilliant polemicist, an iconoclast ..." Publishers' Weekly