Three Keys to Development: Defining and Meeting Your Leadership Challenges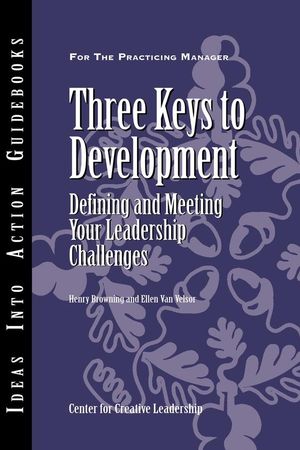 Three Keys to Development: Defining and Meeting Your Leadership Challenges
ISBN: 978-1-882-19740-8 March 2007 Pfeiffer 32 Pages
Description
During the course of your career, you are likely to have many different kinds of developmental experiences. You may be assigned to or seek out a challenging position that tests your limits. You may establish a relationship with a mentor. You may feel called to provide leadership for some community activity. Or you may seek out further training and educational opportunities, such as formal leadership development programs. All of these different experiences share a common path—they are avenues toward personal and professional growth. These experiences may make you feel as if your learning and development were accelerated. What caused that acceleration? How do you keep the learning momentum going once the experience ends? This guidebook shows you how to enhance the value and impact of developmental experiences.
7 Why Seek Assessment, Challenge, and Support?
10 Assessment
When Is Assessment Necessary?
Assessing Yourself and Your Situation
What Assessment Tells You
15 Challenge
Challenge and Development
How to Add Challenge
20 Support
Increasing Support to Manage Challenges
How to Build Support
25 Keeping Your Balance
26 Suggested Readings
27 Background
28 Key Point Summary