Three Methods of Ethics: A Debate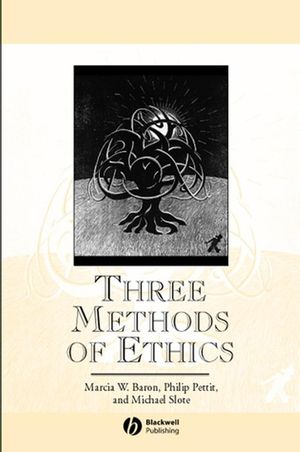 Three Methods of Ethics: A Debate
ISBN: 978-0-631-19434-7
Dec 1997, Wiley-Blackwell
296 pages
Description
During the past decade ethical theory has been in a lively state of development, and three basic approaches to ethics - Kantian ethics, consequentialism, and virtue ethics - have assumed positions of particular prominence.
Introduction.
Part I: Kantian Ethics. (Marcia Baron).
1. Introduction.
2. Consequentalism versus Kantian Ethics.
3. Kantian Ethics and Virtue Ethics.
4. Further Objections to Kantian Ethics.
Part II: The Consequentialist Perspective. (Philip Pettit).
5. A Moral Psychology for Consequentialists and Non-consequentialists.
6. The Question of Rightness.
7. Different Answers to the Question of Rightness.
8. In Favour of the Consequentialist Answer to the Question of Rightness.
9. The Tenability of the Consequentialist Answer.
Part III: Virtue Ethics. (Michael Slote).
10. What is Virtue Ethics?.
11. Theory versus Anti-theory.
12. Virtue Ethics versus Kantian and Common-sense Morality.
13. Common-sense Virtue Ethics versus Consequentialism.
14. Further Aspects of Common-sense virtual Ethics.
15. Making Sense of Agent-based Virtue Ethics.
16. Morality as Inner Strength.
17. Morality as Universal Benevolence.
18. Morality as Caring.
19. Agent-basing and Applied Ethics.
20. Conclusion: Comparisons within Virtue Ethics.
Part IV: Reply to Pettit and Slote. (Marcia Baron).
21. Reply to Pettit.
22. Reply to Stote.
Part V: Reply to Baron and Stote. (Phillip Pettit).
23. Rival Theories?.
24. Comment on Slote.
25. Comment on Baron.
Part VI: Reply to Baron and Pettit. (Michael Slote).
26. Reply to Baron.
27. Reply to Pettit.
28. Virtue Politics.
Index.
"An unprecedented three-way conversation between forceful representatives of the three major traditions in ethical philosophy."
Stephen Darwall, University of Michigan
"An outstanding resource: a book which students beginning to think about normative ethical theory, and their teachers, simply must read." Michael Smith, Australian National University
"This is a superb book by three moral philosophers who really know their stuff; lively, lucid and highly engaging." John Fischer, University of California, Riverside
"This book, which brings together leading protagonists of the three approaches to ethics currently dominant, is definitely one of the best in ethics for 1997. It will provide any reader (whether student, teacher, or 'researcher') with not only an excellent 'big picture' of this important area of debate, but also much philosophical detail to chew over." Steven Tudor, University of Melbourne, Australasian Journal of Philosophy
No other recent book involves a debate among leading proponents of the main forms of contemporary ethical theory
Presents the material in terms that engage current philosophical debate clear enough for undergraduate students.