Thriving in the New Economy: Lessons from Today's Top Business Minds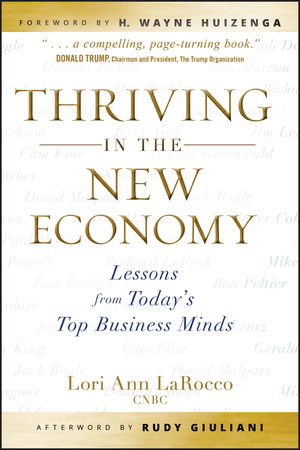 Thriving in the New Economy: Lessons from Today's Top Business Minds
ISBN: 978-0-470-60380-2 December 2009 304 Pages
Description
Survive and thrive in today's economy

These are make-or-break times for business leaders. In today's defining moment, the "New Economy," CEOs and other leaders in a wide variety of industries must face unprecedented conditions.

Thriving in the New Economy gives you a unique look into some of today's best economic and business minds. A series of close profiles, the book offers inspirational personal stories, useful advice, and actionable strategies you can use immediately to skirt financial peril, seize opportunities, and flourish in the New Economy.

    • Profiles include financial publisher Steve Forbes, The Vanguard Group founder Jack Bogle, Former National Economic Council Director and Former Special Assistant to the President on Economic Policy Lawrence Lindsey, former FDIC chair Donald Powell, Saks CEO Steve Sadove, Toyota Motor Sales U.S.A. President Jim Lentz, legendary vulture investor Wilbur Ross and more
    • Looks at how leaders in economics, banking, automobiles, real estate, and retail are not just avoiding the unraveling economy, but actively evolving and growing their businesses
    • Foreword by H. Wayne Huizenga; Afterword by Rudy Giuliani

If you're looking for the way forward through today's business wilderness, Thriving in the New Economy lets you in on how some leaders use challenges not just to survive but thrive.

Foreword (
H. Wayne Huizenga
).
Preface.
Part One: The Economy.
Chapter 1 Larry Lindsey.
Chapter 2 Steve Forbes.
Chapter 3 David Malpass.
Chapter 4 Jack Bogle.
Chapter 5 Bob Doll.
Chapter 6 Abby Joseph Cohen.
Chapter 7 Paul McCulley.
Chapter 8 Ron Baron.
Chapter 9 Ken Langone.
Chapter 10 Peter Cohen.
Chapter11.
Chapter 12 Jerry York.
Part Two: Banking.
Chapter 13 Kelly King.
Chapter 14 Donald Powell.
Chapter 15 Cam Fine.
Chapter 16 Donald Marron.
Part Three: Real Estate.
Chapter 17 Richard Lefrak.
Chapter18 Don Peebles.
Chapter 19 Ron Peltier.
Part Four: Autos.
Chapter 20 Mike Jackson.
Chapter 21 Jim Lentz.
Chapter 22 Gerald Greenwald.
Part Five: Retail.
Chapter 23 Steve Sadove.
Part Six: Opportunities.
Chapter 24 Wilbur Ross.
Epilogue.
Afterword Mayor Rudy Giuliani.
Acknowledgments.
About The Author.
Index.