Thrombolysis and Acute Stoke: Preparing for the Next Decade, Volume 1268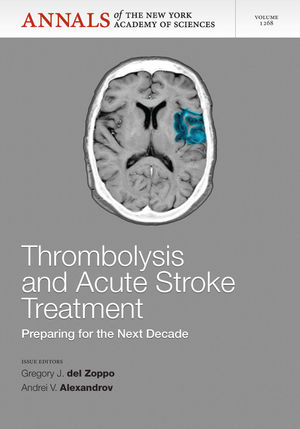 Thrombolysis and Acute Stoke: Preparing for the Next Decade, Volume 1268
ISBN: 978-1-573-31869-3
Oct 2012, Wiley-Blackwell
252 pages
Description
Leading and emerging investigators from within and outside the immediate area of cerebrovascular disease have come together to explore the state-of-the-art and future directions of research and clinical practice leading to enhanced medical care in the acute treatment of ischemic stroke. The agenda highlights various facets of acute intervention and a number of unaddressed issues related to the medical setting of stroke that impact clinical outcomes and provide opportunities for improving treatment. The main goals are the generation of data-driven, multidisciplinary ideas, to explore ischemic stroke as a systemic disease related to other disease entities (hypertension, diabetes, and disorders of aging), and to better address the evolution of ischemic brain injury.
NOTE: Annals volumes are available for sale as individual books or as a journal. For information on institutional journal subscriptions, please visit: http://ordering.onlinelibrary.wiley.com/subs.asp?ref=1749-6632&doi=10.111/(ISSN)1749-6632
ACADEMY MEMBERS: Please contact the New York Academy of Sciences directly to place your order (www.nyas.org). Members of the New York Academy of Science receive full-text access to Annals online and discounts on print volumes. Please visit http://www.nyas.org/MemberCenter/Join.aspx for more information about becoming a member.
Introduction to Thrombolysis and Acute Stroke Treatment: Preparing for the Next Decade vii
Gregory J. del Zoppo and Andrei V. Alexandrov
Advanced multimodal CT/MRI approaches to hyperacute  stroke diagnosis, treatment and  monitoring 1
David S. Liebeskind and Andrei V. Alexandrov
The future of stroke thrombolysis 8
Antoine M. Hakim
Population shifts and the future of stroke: forecasts of the future burden of stroke 14
George Howard and David C. Goff
Pathobiology of injury after stroke: the neurovascular unit and beyond 21
Ulrich Dirnagl
The ischemic penumbra: how does tissue injury evolve? 26
Wolf-Dieter Heiss
Current treatment of basilar artery occlusion 35
Perttu J. Lindsberg, Tiina Sairanen, Daniel Strbian, and Markku Kaste
Improving public education about stroke 45
Mark J. Alberts
Impact of regional pre-hospital emergency medical services in treatment of patients with acute ischemic stroke 51              
Cemal B. Sozener and William G. Barsan
Techniques for improving efficiency in the emergency department for patients with acute ischemic stroke 57
Edward C. Jauch, Christine Holmstedt, and Justin Nolte
Imaging-based selection in acute ischemic stroke trials- a quest for imaging sweet spots 63
Andrew M. Demchuk, Bijoy Menon, and Mayank Goyal
Considering hyperglycemia and thrombolysis in the Stroke Hyperglycemia Insulin Network Effort (SHINE) trial 72
Andrew M. Southerland and Karen C. Johnson 
Treatment of acute ischemic stroke: systemic or local? 79
Rudiger von Kummer and Johannes Gerber
How baseline severity affects efficacy and safety outcomes in acute ischemic stroke intervention trials 85
Philip B. Gorelick
Does inhibiting Sur1 complement rt-PA in cerebral ischemia? 95
J. Marc Simard, Zhihua Geng, Frank L. Silver, Kevin N. Sheth, W. Taylor Kimberly, Barney J.  Stern, Mario Colucci, and Volodymyr Gerzanich
Safety and efficacy of 0.6 mg/kg rt-PA: optimum rt-PA dose revisited 108
Etsuro Mori
Ancillary approaches to plasminogen activators 113
Reza Bavarsad Shahripour and Andrei V. Alexandrov
Selection of possible responders to thrombolytic therapy in acute ischemic stroke 120
Christian Hametner, Peter Arthur Ringleb, Werner Hacke, and Lars Kellert
Aging and the neurovascular unit 127
Gregory J. del Zoppo

Intra-arterial vasodilator use during endovascular therapy for acute ischemic stroke might improve reperfusion rate 134
Ziad M.K. El-Zammar, Julius Gene S. Latorre, Dongliang Wang, Shyama Satyan, Elwaleed Elnour, Adham Kamel, Ashok Devasenapathy, and Yahia M. Lodi
Timing of thrombolysis for acute ischemic stroke: "timing is everything" or "everyone is different" 141
James Grotta
Pre- and in-hospital intersection of stroke care 145
Atte Meretoja and Markku Kaste
A strategic plan to accelerate development of acute stroke treatments 152
John R. Marler
Corrigendum for Ann. N.Y. Acad. Sci. 2010. 1195. 1-27 157